Hooray for festive ham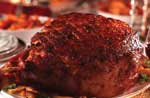 Once, the ham was the traditional Christmas staple, with families saving a particularly juicy looking pig with which to feed large numbers over the festive season.

Great hams of England

However, things have been looking bad recently for traditional British ham. York ham, legend says, has been cured in the city since York Minster was being built, its oak sawdust used to smoke the meat. But three months ago, the one remaining curer within the city walls went out of business.

The hams, made from Large White pigs, dry-cured in salt and so famous that even the French reckoned they were worth eating, are no longer. There was apparently a huge local outcry about the closure of George Scott, curers for generations, in their Low Petergate shop.

However, there is hope. Joyce Ashbridge of Taste Traditional, based in North Yorkshire, makes Yorkshire ham, which could be called York ham if only it was cured inside the old citadel of York.
She and her son, Charles, are thinking of moving into the city and saving York's bacon. They currently use the rare breeds of Gloucester Old Spot and Saddlebacks to produce 80 hams a week. 'We dry cure them in salt, saltpetre and brown sugar for four weeks, then turn them, wash them off and air-dry them for another three weeks,' says Mr Ash-bridge. 'We use hams with a little bit more fat than normal, to leave flavour in the meat, and then trim them up before selling.'

Mrs Ashbridge recommends cooking them either in water or water with cider, orange juice or Guinness for 20 minutes per pound. 'Then I skin the ham and put on a layer of breadcrumbs with mustard and honey. I let this roast in a hot oven for 30 to 45 minutes, depending on the size, until the crust is brown and crispy.'

Bradenham ham, once confined to Wiltshire but lately cured in North Yorkshire, is another one to have vanished. This ham used to be made by the Harris Bacon Company (now Vale of Mowbray pies). It was dry-cured in salt, saltpetre and brown sugar, then marinaded in molasses and spices before being hung to mature— a process that might last up to six months (which explains why good ham is expensive).

The recipe dates from 1781, and was named after the last Lord Bradenham of Buckinghamshire. The hams won a royal warrant in 1888, and were cured in Wiltshire until the Harris Bacon Company moved to North Yorkshire and, finally, stopped making them.

However, Dukeshill Ham of Staffordshire now cures a Bradenham ham to the Lord Bradenham recipe—the Shropshire Black. It's soaked in molasses and is very distinctive, being both strong and sweet.

In Shropshire, near Telford, Dukeshill's cross-bred Gloucester Old Spot pigs are reared outside, some coming from Prince Charles' farm in Cornwall. Its Wiltshire ham— mild, smoked in oak and moist—is the most popular, and the Yorkshire ham, dry-cured for three months, is saltier and drier.

In Wales, Carmarthen ham is meant to be eaten raw, like Parma ham. Indeed, Chris Rees says the Romans discovered the recipe in Wales and took it back to Italy. His family have been dry-curing the meat in salt, then air-drying and maturing it for nine months for five generations. 'It's done to a secret family recipe of spices, handed down. We always use Welsh pigs—I wouldn't use foreign pigs at all.'

He says it should be eaten like smoked salmon with black pepper and lime or lemon juice. An alternative is to roll a pork fillet in a dry sage-stuffing mix, then roll the ham around the pork before covering it in foil 'like a cracker twisting the ends'. The parcel should be roasted for 35–40 minutes in a hot oven.

In Devon, Anne Petch at Heal Farm uses rare breeds for her Devon cure. 'It's very simple, a light brine cure, not particularly dry. The hams are cured for a week to 10 days, matured for two to three weeks and then left in a cold, ventilated room for 2½ months. It doesn't keep forever, but you can really taste the flavour.

It has low salt and we produce an unsmoked ham or one cold-smoked in oak. 'I would cook it at a light simmer for six hours, then leave it to cool to room temperature, which can take an hour or two. When it's cool, I skin and glaze it to my grandmother's recipe. I mix brown sugar, cider and mustard to a light paste, score the fat and spread the glaze. Then I put it in the oven to caramelise.'

Mrs Petch, a supporter of rare breeds since 1975 (a year after the Rare Breeds Trust came into existence), uses Tamworths, Berkshire and Welsh pigs for the hams. Like all the ham curers, she insists that the meat should have a good layer of fat and be marbled. 'People don't want the fat, but we must educate them not to go for lean meat. With fat, there's a lot more flavour, and marbling keeps the meat moist. If you really don't like the fat, just trim it off.'

Which is her favourite? 'It's like asking me which is my favourite child. They're all slightly different. However, if the pigs all eat the same food and water, there's not a lot of difference—but a pig from the other end of the country would be.'

Heal Farm also does a hot smoked ham, dreamed up by a Polish worker. This is smoked to a secret recipe. 'I can't tell you the wood, which is a common European hardwood, but is not common in the UK. It's sweet, smoky and less harsh than oaksmoked ham.'

In Suffolk, Emmett's of Peasenhall has been making Suffolk sweet-cured ham for more than 150 years to a recipe that goes back to the early 19th century. It takes Mark Thomas 10 weeks to cure a ham, which is steeped in Suffolk stout, treacle and raw cane sugar for six weeks (being turned every day), then hotsmoked over oak sawdust for two or three days.

He likes to cook the hams in tinfoil, with four to six oranges underneath, their juice being poured over. Dried prunes and apricots can be added and a few tablespoons of runny honey. When the ham is completely covered with foil, it should be roasted for 20 minutes per pound at 180˚C/190˚C.

Mr Thomas also experiments with different cures. This Christmas, there's a spiced ham of ginger, molasses, brown sugar, star anise, nutmeg, cinnamon, cloves and black pepper, as well as a lavender cure, a cider-cured ham and one, Vintage Velvet, with port. There's also a mild cure, which is brined and smoked.

A boiled ham is the perfect answer for a busy hostess, good for breakfast, lunch and supper, versatile, delicious and, above all, easy. Hooray for hams, I say.

Where to buy ham this Christmas

* Dukeshill Ham, Telford, Shropshire (0845 3700129; www.dukeshillham.co.uk)
* Heal Farm, Kings Nympton, Devon (01769 574341; www.healfarm.co.uk)
* David Lishman, Ilkley, West Yorkshire (01943 609436; www.lishmansonline.co.uk)
* Taste Tradition, Thirsk, North Yorkshire (01845 525330; www.tastetradition.co.uk)
* Chris Rees, Uplands, Carmarthenshire (01267 237687; www.carmarthenham.co.uk)
* Emmett's of Peasenhall, Saxmundham, Suffolk (01728 660250; www.emmettsham.co.uk)
This article is published in Country Life's Christmas Advent Calendar issue (November 26, 2008) Give the very best of British life this Christmas - a subscription to Country Life