Recipes for wild samphire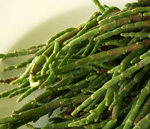 I've come across samphire at a cottage stall in north Norfolk and walked the salt marshes of the Gower peninsula, where this curious seaweedy plant (Salicornia europea) grows wild. It's sold in Wales with the salt-marsh lamb, where the sheep feed on it and marsh grasses. It was a tradition to serve the meat with the food it once ate.

It looks, when it's growing, say David and Richard Mabey (In Search of Food, 1978) like badly kept lawns. It is most prolific from Brancaster to Salthouse in Norfolk and in the Blyth estuary of Suffolk and most tender in July and August before it flowers. Check with English Nature before picking or buy it from locals or a fishmonger (Cookie's Crab Shop, Salthouse, Norfolk, for instance.) It tastes delightfully of the briny sea.

It can be eaten raw when it's young or boiled for only five minutes. Serve with melted butter and draw the curious swollen joints between your teeth, tossing out the twiggy bits. But, best of all, get the freshest sole or dab your fishmonger can offer, and serve the lightly fried fish on a bed of buttered, lightly boiled samphire. I also like it cold with vinaigrette.

Mark Hix's samphire omelette
Serves 2
The fresh, slight saltiness of samphire helps to perk up an omelette, whether it's for breakfast, brunch or lunch. For a special touch, add some shellfish, such as freshly cooked prawns, white crab meat, mussels, etc., as you serve the omelette.

A good non-stick frying pan is essential.

Method
100g (or more) samphire, washed
50g butter
4 spring onions, trimmed and finely chopped
Salt and freshly ground black pepper
6 medium eggs
Remove any woody stalks from the samphire.
Melt half the butter in a hot frying pan.
Add the spring onions and half the samphire, season and cook quickly over a medium heat for a minute or so. Set aside; keep warm.
Beat the eggs in a bowl and season with salt and pepper, then mix in the cooked spring onions and samphire.
Preheat the oven to 180°c/gas mark 4.
Rub a little butter over the bottom of a non-stick frying pan and heat gently, then add half the egg mixture.
Stir with a rubber spatula or wooden spoon until the egg begins to set.
Remove from the heat and slide the omelette flat onto a cold heatproof
plate to prevent it cooking any further.
Keep the omelette a little undercooked, as you'll be reheating it later.
Repeat to make the second omelette.

Heat the remaining butter in a pan and cook the rest of the samphire over a low heat for a minute or so, without colouring. Warm the omelettes through in the oven for a couple of minutes, then scatter the warm samphire
on top and serve.

Extract from Mark Hix's 'British Seasonal Food', published by Quadrille

Sarah Raven's samphire sauce
For 6
This is lovely with any fish, but is particularly good with cold salmon and trout.

Ingredients
2-3 big handfuls of young and tender
samphire fronds
3tbsp extra virgin olive oil
Salt and black pepper
250ml crème fraîche
Grated lemon zest and juice to taste

Method
Rinse the samphire thoroughly in a colander under cold, running water. Chop very roughly, put into a food processor and pulse to a purée.
Slowly add the oil and season. Put the samphire purée into a bowl and then fold in the crème fraîche, lemon zest and a little lemon juice to taste.