Haunted house in Yorkshire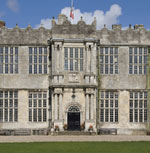 Howsham Hall, near Malton, boasts five reception rooms and seven bedroom suites and is on sale at £6m – but according to local folklore, there are strings attached.

The legend of the so-called Curse of Kirkham dates back to 1610 when Sir William Bamburgh built the hall using stone and timber from nearby Kirkham Priory, home to a thriving religious community until destroyed by Henry VIII in 1539 during the dissolution of the monasteries.

The plundering of the stone was considered sacrilege by many and a curse was said to have been put on Howsham Hall and its owners in perpetuity.

According to the curse: 'All male heirs of the estate will perish' and 'true happiness will never come to that family or its successors'.
Howsham Hall in Yorkshire: £6m

A spokesman for Savills said inquiries about the house - on sale for only the fourth time in 400 years - had come from as far away as Budapest and no one had yet raised the curse as an issue.

'Every old house these days has some tale attached to it, whether it is a ghost or a curse,' he said. 'The curse was probably put on the house at the same time they were drowning witches.

'It would be more of a worry if someone had been murdered in it last week. We find people in this day and age are generally less superstitious.'