Time to save endangered buildings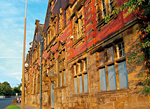 The search is on to find the 10 most endangered Victorian buildings in the country. The Victorian Society's annual campaign, now in its fourth year, names and shames Britain's most neglected buildings, such as mills, public baths, churches and schools, plus country houses, in the hope of persuading organisations to take action and save them.
'People expect us to be obsessed with the past, but the reality is we're obsessed with the future. We want to ensure that the best examples of Victorian and Edwardian architecture are still there for future generations to enjoy,' explains Dr Ian Dungavell, director.
'If you know of a vulnerable Victorian school building, an empty pub, a disused swimming pool or a crumbling chapel, we want to hear about it.' Buildings, which should date from 1837 to 1914, don't need to be listed, but they should be at risk of demolition, insensitive development or neglect. To nominate a building, visit www.victoriansociety.org.uk
* For more News like this every week, subscribe and save