The world seems to be going Black Friday barmy this week. We've picked out a few of the best deals.
Black Friday. You may love it, you may hate it, you may even despair of its very existence.
It seems that it's here to stay, however – and to tweak a phrase, if you can't beat them, at least get a healthy bargain from them.
Who is offering discounts?
Many of the finest manufacturers and retailers, for reasons that are probably to do with scenes such as that in the video above, don't get involved. Fortnum & Mason and Marks & Spencer, to name two examples, are not offering any deals on Friday. Harrods have also sat on the sidelines in recent years, while some retailers have even made a point of closing for the day to demonstrate their distaste.
Others, however, are running with it – with even some previously reticent shops, such as Selfridges, taking part.  John Lewis will be  at the forefront of the action on the Friday itself, while House of Fraser and Amazon all have good offers.
There are also plenty of smaller companies who will be offering deals as well, however.
So, to help you find what you need, you'll find down below our pick of some of the best deals out there right now – and if you're looking to buy for someone else, take a look at the deals our colleagues on other magazines and websites have put together:
Our pick of the best Black Friday deals
Country Life Magazine – 50% off
Where else can we start but with ourselves? We've got a superb deal on subscriptions running all week, offering the magazine at half price.
The deal comes in at £92.50 a year (51 issues), though you can pay quarterly if you prefer (the quarterly price of £23.10 is guaranteed not to rise for at least a year).
Arguably Britain's most famous welly brand featured heavily in our round-up of the best wellington boots on the market, and Hunter is offering 30% off many lines today, plus an extra 20% off already-discounted lines. Kids boots for £25 and some ladies' lines down from £80 to £44 are among the highlights.
---
Amazon's wine and spirits shop has some fine deals worth a look if you're keen to stock up on bubbly for Christmas and New Year. Bollinger Special Cuvee is down to £27.99 from over £40, while Taittinger's Reserve Brut non-vintage is on sale at £23. 
---
This offer runs from today until November 30 – you have to enter the code BLACKFRIDAY15 at the checkout.
---
The discount on Black Friday covers all sofas and furniture.
---
Houghton Country is a country specialist that has unveiled its special offers early with discounts of up to 50% spotted on their website (e.g. this ARIAT Concord Smooth Chap from £44.99 saving £45). A wide range of clothing for horse and rider is discounted, including products from Lemieux, Joules, Horseware, Ariat, Toggi and more.
---
The winner of Country Life's – an excellent all-round gin, equally suited to the classic gin and tonic or mixed in a variety of cocktails – has been reduced to £26 a bottle at Amazon.
---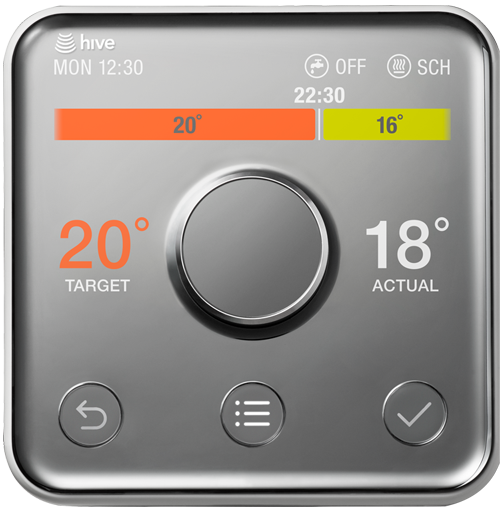 We recently listed Hive in our list of home tech gadgets that you actually need in a country house – and they've never been better value, thanks to the current deal at Amazon. It's £119 if you install it yourself (or if you have a 'man who can'), or for an extra £40 a British Gas engineer will come to your house and do the honours.
---
There is 25% off everything at Emma Bridgewater – in store and online at emmabridgewater.co.uk – from Friday 24 November to Monday 27 November.
---
In addition to their own deals – of which there are expected to be several hundred, starting on Friday – John Lewis appear to be working overtime to try and match competitors' prices, under their 'Never knowingly undersold' policy. And rather than hide things throughout the site, they've collected their price match items in one place.
---
Best Western hotels are offering a discount of up to 50% on rooms booked on Black Friday. Many of the members of this chain are fairly standard places, but Salford Hall is a building full of charm in Stratford. It drips with period features (wood panelling, stone fireplaces) and some rooms feature four-poster beds.
---
A dozen or so of De Vere's lovely country hotels are running Black Friday offers, with overnight breaks from £79. Tortworth Court (above) is one which caught our eye as a lovely place for a winter break – you can make bookings until the end of next March.
---
Looking for something else?
Our colleagues at our sister magazines and websites have been trawling the shops for the finest deals – here are their hub pages so you can find a deal.
Black Friday Golf Deals from Golf Monthly
Best Black Friday technology deals from Trusted Reviews
Black Friday bike deals from Cycling Weekly
Black Friday Beauty deals from Marie Claire
Black Friday clothing deals from InStyle
Black Friday make up deals from Look
What is Black Friday, and when is it?
For the uninitiated (count yourselves lucky) it's the Friday which coincides with the Thanksgiving holiday weekend in the USA, which for many years has been a major pre-Christmas shopping day across the Atlantic. Shops, of course, caught on, and began offering heavy discounts to get customers through the doors. Thus, Black Friday was born.
The idea of a big sale weekend a month before Christmas has now caught on in Britain as well. Friday 24 November is the day, but many deals started several days beforehand.
How long do the deals last?
Once upon a time, getting a Black Friday discount meant fighting your way through hordes of highly over-excited shoppers in order to wrestle over a pullover or a lamp.
Hardly edifying. Thankfully, things have moved on somewhat, and 'Cyber Monday' is as big a deal for online shopping as Black Friday is in store. Most deals last until Monday 26 or Tuesday 28 November.