Great British garden makers: Lawrence Johnston, 1871–1958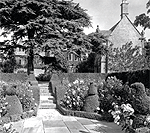 Lawrence Johnston made two substantial gardens in the early part of the 20th century: Hidcote Manor in Gloucestershire, which is universally acclaimed a masterpiece, and Serre de la Madone at Menton, which enjoyed as great a reputation in its heyday.

Johnston was a keen plantsman, which took him on plant-hunting expeditions to South Africa in 1927 and Yunnan in 1930, yet he marshalled his plants with the eye of a painter. He insisted on using only the best forms, and on planting them thickly to keep out the weeds, but he also believed in using plants to create artistic effects -harmonies and contrasts.

At Hidcote, tender plants and annuals fleshed out more permanent plantings. The bold plantings in his red borders, white garden and cottage garden have become modern classics, much studied and copied. Johnston's plantings at Serre de la Madone were spellbinding. Whole terraces were hung with Beschorneria yuccoides, and embankments were blue with sheets of agapanthus. Clumps of the bird-of-paradise flower Strelitzia reginae (opposite page, bottom right) formed a motif throughout the garden: this repeated device both shaped its exotic character and bestowed a sense of coherence. A parterre, not unlike the fuchsia enclosure at Hidcote, had box edgings filled with the double-flowered purple periwinkle, through which grew massed plantings of the red-and-white lady tulip Tulipa clusiana.

How can we account for the immense popularity of Hidcote today and its reputation as one of the most influential of modern gardens? Part of the answer lies in its mystique. Hidcote was known only to Johnston's friends until Avray Tipping- Country Life's ubiquitous architectural editor -published two articles on it in 1930. Russell Page delivered a radio broadcast about it in 1934; years later, he commented that Hidcote had influenced him more than any other garden.

* For more news stories like this every week subscribe and save

Although it was open for charity two or three times a year, Hidcote became one of those gardens that everyone in the horticultural world knew about but almost no one had seen. Its importance assumed almost mythological proportions. Hidcote's reputation grew steadily under the management of the National Trust, although many of the plantings were not original, but reinvented by its gardens advisor Graham Stuart Thomas. Hidcote remains popular with the visiting public because its component parts are individual garden rooms, each offering a lesson that can be adapted for much smaller gardens.

The Hidcote style became the very model of late-20th-century gardening-scaled down grandeur, introspective, full of interesting plants but thickly, opulently planted and arranged in such a way as to engage the creative eye of artistically inclined garden-owners. Serre de la Madone, by contrast, had a difficult time after Lawrence Johnston died in 1958. He bequeathed it to Norah Lindsay's eccentric daughter, Nancy, who, instead of moving in and continuing Johnston's work as he intended, stripped the garden of its more valuable ornaments and sold off the house.

The garden went into decline. In the 1930s, most visitors considered Serre de la Madone the better of the two gardens-and it had 12 gardeners; Hidcote had but six. But it was never open to the public and never acquired the renown that transfigured people's perception of Hidcote. In short, Johnston's reputation as a great garden-maker- which, indeed, he was-rests upon the fortunate survival of Hidcote, the lesser of his two gardens, and the accessibility of its features to a post-war public greedy for instant style.


The life and times of Lawrence Johnston
1871-1907 Lawrence Waterbury Johnston (seated, right, at Hidcote, with his dogs and gardeners) was born in Paris on October 12, 1871, to a rich American family living in France. He was educated at home by tutors, and then at Trinity College, Cambridge University.

1900 Johnston took British nationality in January 1900 and immediately joined the Imperial Yeomanry, sailing for South Africa in February. His interest in South African flora dates from time spent in active service in the Second Boer War.

1902 His military career continued in the Northumberland Hussars and army service in the First World War

1905 Johnston borrowed numerous books from the RHS Lindley Library concerning gardening and particularly alpine flora.

1907 Johnston's mother bought the Hidcote estate, in the Cotswold village
of Hidcote Bartrim, in 1907, and her son began to form its structure. He laid out the main walks and views by working outwards from the house, and was careful to ensure that the design and, later, the plantings were, so far as possible, symmetrical. This enabled him to frame the prospects and construct an ever-changing series of pictures-Johnston was an accomplished watercolourist.

1922 Went plant-hunting in the Alps with plantsman E. A. Bowles

1923 Joined a syndicate sponsoring W. T. Goethe, a German plant-hunter, collecting in the Andes.

1924 onwards Johnston bought Serre de la Madone near Menton, on the Riviera, in 1924; he spent most of the year there and his summers at Hidcote. The house at Serre de la Madone lay near the top of a steeply terraced hillside, put to olives and vines. Johnston took terrace after terrace into the garden and treated each level differently. A strong vertical line provided the central link: successive flights of stairs ran down from the house through garden after garden until the whole was joined in a single dynamic axis.

1926 Co-sponsored Frank Kingdon Ward's Burma expedition for seeds. His mother died the same year, leaving him Hidcote and a very large income.

1927 Went plant-hunting in South Africa, joined by three distinguished friends plus his chauffeur and valet.

1945-58 After the Second World War, Johnston decided to spend more time in Menton. Friends suggested that he should give Hidcote to the National Trust, but he couldn't afford to endow it, and the Trust had never before acquired a property for the importance of its garden alone. Nevertheless, the Trust accepted Hidcote in 1948, and Johnston retired to Serre de la Madone, where he died on April 27, 1958.