After something special for a person who really appreciates their food? Our suggestions are certain to have something that's just right.
---
---
This inspired idea offers no fewer than five miniature sponge puddings in a single pack, all made to recipes using Fortnum's preserves.
Five Days of Christmas Sponge Puddings, by Fortnum & Mason , £14.95 – click here to buy.
---
These hand-made British chocolates come in all sorts of wonderful flavours – the tasting tray with 19 chocs and a bar is a great place to start.
The Grown Up Chocolate Company tasting tray, £15 – click here to buy.
---
Chillies are not just for those who like to have their socks knocked off. Four distinct notes here to play together in one chilli collection.
The Chilli Lover's Spice Collection by Ottolenghi, £15 – click here to buy.
---
Breakfast isn't breakfast without the accompaniment of one's favourite preserve or spread. This elegantly presented gift set contains three traditional varieties made with The Wolseley's recipes.
Preserves & Spreads Gift Set from The Wolseley Shop, £18.75 – click here to buy.
---
This lovely Dorset company specialises in making chocs which are a feast for the eyes as well as the tastebuds.
Choc on Choc gift set, £20 – click here to buy.
---
Gorgeous olive oil, beautifully presented – it's half price (reduced from £40) until December 15th using code BF2411 at the checkout.
Kalamata olive oil, £20 – click here to buy.
---
More than just another monthly subscription box, Partisan Cheese Club is an opportunity to become a real cheese connoisseur and explore the incredible array of cheeses currently available in the UK.
Cheese Club membership, from £23.99 per month for three cheeses – click here to buy.
---
Rich and creamy premium blue Stilton crumbled into a collectable Limited Edition Paxton & Whitfield jar.
Limited Edition Finest English Stilton Jar from Paxton & Whitfield, £28 – click here to buy.
---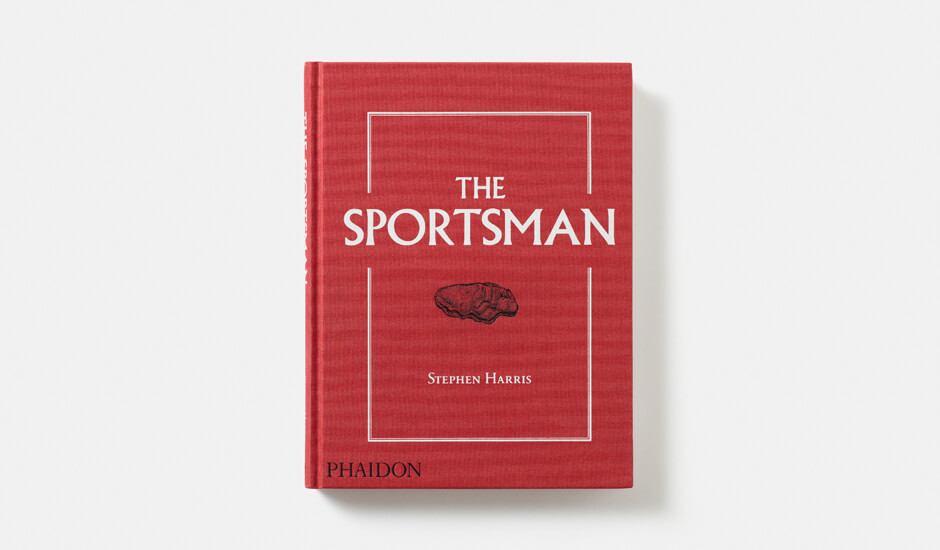 For home cooks, Stephen Harris, the chef at the UK's #1 restaurant, The Sportsman, shares the age-old and modern techniques to perfect 50 British classics.
The Sportsman cookery book, £29.95 – click here to buy.
---
Made like a gin with botanicals, this non-alcoholic spirit is an innovative alternative for the designated drivers.
Spice 94 non-alcoholic spirit gift pack by Seedlip, £32 – click here to buy.
---
These beautiful knives with a rose gold finish are a real talking point for anyone's kitchen – and at the time of writing, reduced from £88 to £34.
Taylor's Eye Witness knife block, £34 – click here to buy.
---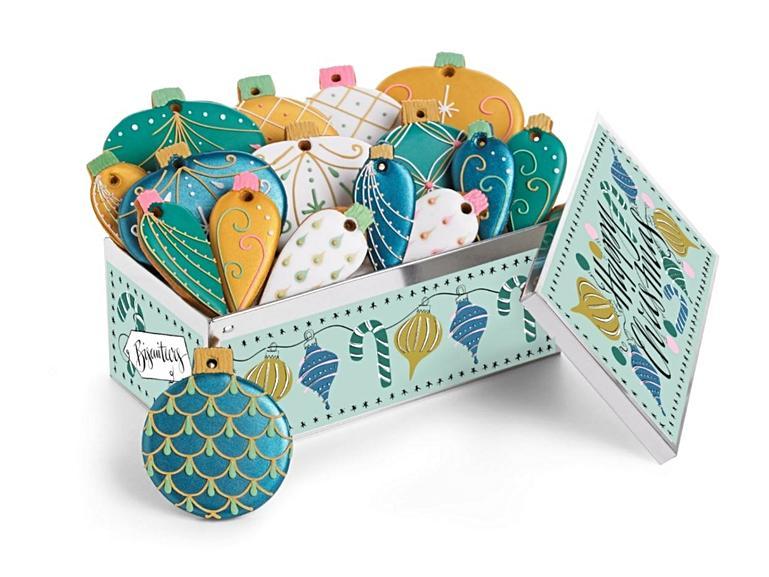 No Christmas tree is complete without a collection of delicious Christmas biscuits hanging from its branches.
Christmas Tree Decorations from Biscuiteers, £39.50 – click here to buy.
---
A two-tiered Art Deco inspired presentoir of fine chocolates, as served in three Michelin starred restaurants.
Presentoir by Artisan du Chocolate, £39.99 – click here to buy.
---
Three boxes of chocs hand-made in Dorset, and with the most amazing seasonal flavours – highlights include date & cognac, marzipan, fizzy pudding, fig & port, mince pie and mulled wine.
Chococo Christmas Cascade , £42.50 – click here to buy.
---
A gorgeous gift box packed with delicious treats including Inverawe smoked salmon, Maclean's smoky oatcakes, Truckle oak smoked cheese, a jar of Inverawe dill sauce, smoked salmon pâté, smoked Argyll ham, and sliced roast smoked salmon.
The Seasons Greetings Box by Inverawe Scottish Oak Smokehouse, £49.95 – click here to buy.
---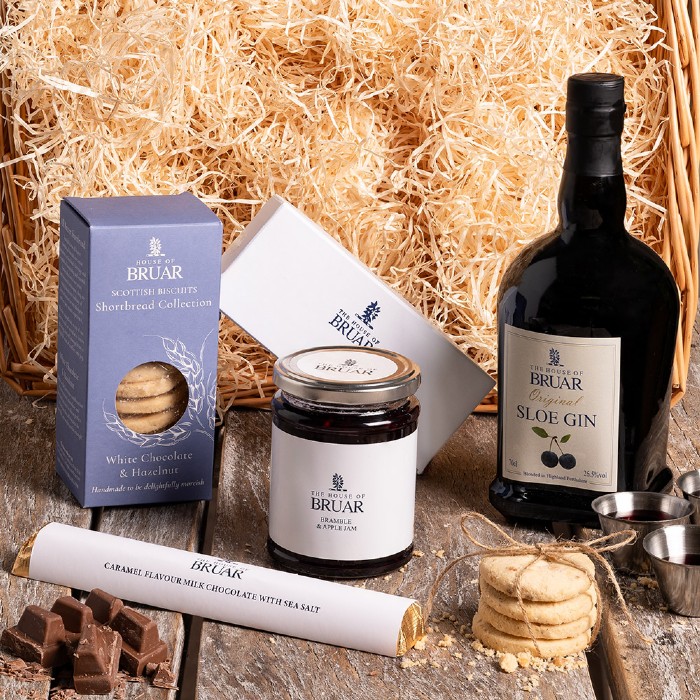 A choice selection of some of the most gift-worthy items including The House of Bruar's incredibly popular sloe gin and luxurious Champagne truffles.
Atholl Gift Box by The House of Bruar, £49.95 – click here to buy.
---
The perfect gift for Christmas, or any dinner party!
Perfect Charcuterie Board Tin by Cannon & Cannon, £55 – click here to buy.
---
The man who turned a Buckinghamshire pub into a Michelin-starred destination now has his own cookware – Tom promises 'Land Rover' build quality, but some of the prices seem outlandish (£99 for a saucepan?) Nonetheless this slicing and dicing knife looks superb, and comes with a lifetime guarantee.
Tom Kerridge Santoku knife, £99 – click here to buy.
---
What better way to celebrate the best of British than with the nation's tastiest treasures?
Great Brit Box by Harvey Nichols, £150 – click here to buy.
---
A stunning stainless steel set with beautifully crafted handles.
Somerset Laguiole carving-knife set by Linley, £280 – click here to buy.
---
Not just a stupendous cheese hamper – this incredible collection includes everything frmo vintage port to truffle honey and even a cheese dome. Paxton & Whitfield have plenty of more modest hampers too…
Paxton's Ultimate Collection, £1,000 – click here to buy.
---
---
Whether you're after a wonderful whisky, luxurious liqueur or jazzy gin, we've got something for you.
Christmas gifts for men, from beautiful boxers to a classic cocktail shaker Christmas gifts for dogs… and their owners Christmas…
---