A beautiful, traditional sofa will always have its place — but if you really want somewhere to relax with friends or family, a corner sofa is ideal. Our interiors expert Giles Kime explains more.
One of the great challenges of interior design is creating a sitting room that isn't burdened with the polite, but uninviting look of a Harley Street waiting room. Or, as a photographer I work with describes them: 'Rooms that always look as if the daily just left.'
The solution isn't rocket science; mess up any symmetry, light a fire, stack tables with piles of books and add a sleeping dog or two.
However, it's upholstery that really lies at the heart of the matter. Whatever the undisputed beauty of 18th-century upholstery, industrial quantities can overwhelm a room. It's remarkable how the studied formality of Georgian drawing rooms had such a long-lasting impact, despite the best efforts of Nancy Lancaster of John Fowler to knock the stuffiness out of classic English interiors with deep, cosseting, Howard-style upholstery.
The Victorians understood the problem, too; the invention, in 1826, of the hourglass-shaped spring (originally devised to cushion coach passengers from bumps of cobbled streets) was soon used to create sofas and chairs that offered a magical mix of comfort and joy. The interiors of London's Reform Club and the Athenaeum are wonderful, still extant 19th-century examples.
In the 21st century, one of the secrets of a sociable sitting room is the corner sofa. It's a design that has its roots in modular (or sectional) furniture fashionable among 1960s designers of a Modernist bent. The growing popularity of the new generation of corner sofas is that they tend to be more comfortable and less linear and will fit snugly into the corner of a large open-plan kitchen, effortlessly accommodating the statistically average family and a couple of pets.
Recommended videos for you
The benefits, however, don't stop there; a corner sofa creates a convivial feeling that encourages conversation. Better still, for the consumption of boxed sets, they offer a near-perfect configuration for the largest number of people, especially when paired with a large upholstered stool or ottoman (the new coffee table, in case that fact has escaped your attention).
Good examples abound: Tetrad's Truffle is a corner group that combines buttoning and turned legs, whereas the Alwinton from Sofas & Stuff includes arms inspired by the classic Howard sofa that lend it a classic feel. Both Neptune's Long Island and Willow & Hall's Gifford are lent a relaxed look thanks to skirted upholstery. For those with taste for the more pared back, there are Love Your Homes's Jasper and Ottilie sofas.
Five best corner sofas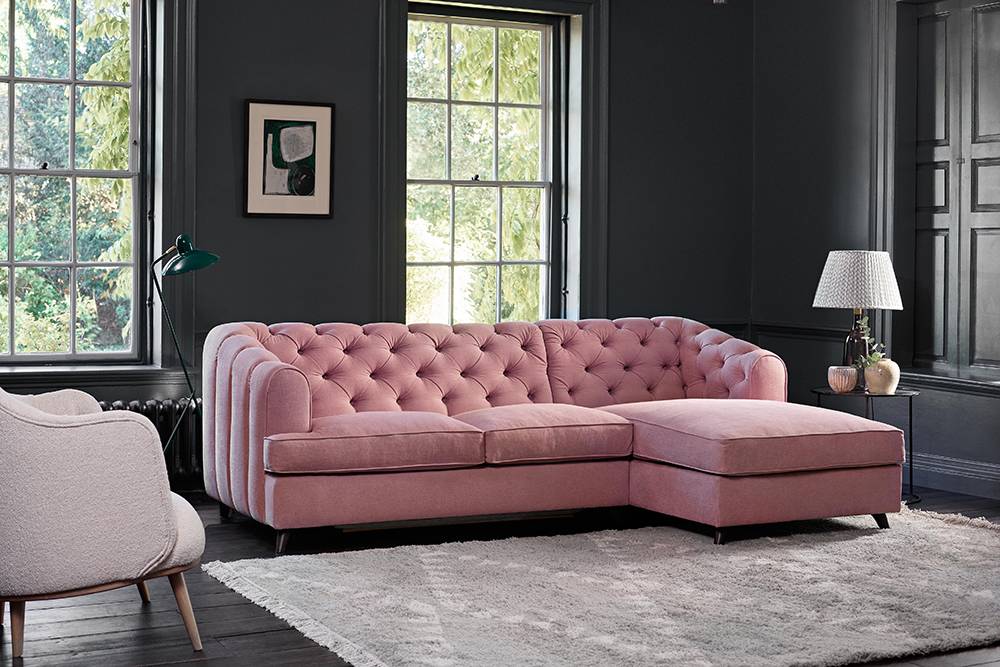 This classic sofa-with-chaise corner sofa is available in a huge range of colours and fabrics — and it also converts into a sofa bed.
Starting from around £5,200 at love-your-home.co.uk 
---
Simple, clean lines, entirely customisable and with well over 100 different fabrics.
From £2,395 at willowandhall.co.uk
---
A low-backed sofa that's deep and generously filled for — let's face it — optimal slouching potential.
---
A classic Chesterfield given a modern twist, with a sprung button back, deep seat cushions and a dizzying choice of fabrics — including some glorious William Morris options.
From around £5,000 at sofasandstuff.com.
---
Many corner sofas keep a rectangular look and feel; this one cleverly embraces the curves without significantly altering the footprint. This is no off-the-shelf option though: it's entirely customisable in size and configuration.
Price on application from tetrad.co.uk
---