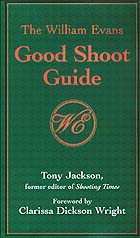 As more and more guns want to pursue their hobby in a wider variety of locations and roving syndicates have become increasingly popular, the shooting world has been crying out for a comprehensive guide to let days throughout the United Kingdom.
Therefore it is pleasing to report that the prayers of numerous sportsmen have been answered by this excellent volume, which contains more than 200 shoots and deer forests, ranging from the grand and famous to little-known privately-run ventures.
There is a precise and anlaytical description of each shoot. There is useful information on contact numnbers, acreage, number and type of drives. Bag expectation and price structure are set out below a brief but lucid critique of each venue's ambience, topography and sporting merits. Concise directions on air, rail and road access and valuable tips on where to stay and eat have also thoughtfully been added. Unlike some guides, this one is easy to read and understand.
For extra clarity, the author, who is a former editor of Shooting Times and Country Magazine, has cleverly devoted a separate section to each country in the United Kingdom. All types of sport from driven pheasant and partridge to chasing the wily pigeon are covered. Simulated shooting and stalking of all sorts of deer from the red to the roe is covered as well.
Moreover, the guide helpfully indicates whether walked up or rough shooting for groups or single guns is available.
Those who prefer wild game, such as duck, woodcock and snipe, as a quarry are well catered for too. There are fabulous days for let pursuing these elusive birds on the majestic Scottish west coast, in the wild and beautiful Outer Hebrides or among the ancient bogs of Wales and Northern Ireland. There are even four high-ground Scottish estates where the energetic might secure the exotic ptarmigan, which turns snow white in the winter.
Interesting essays by shooting experts on subjects as diverse as etiquette in the field and the importation of firearms are an added bonus. Delicious recipes from Clarissa Dickson Wright, who wrote the foreword, and sound advice on wine to drink with game from Simon Berry will also wet the taste buds.
To sum up,this impartial guide, which importantly has a strict policy of no payment for entries, looks certain to become a vital accessory for all who shoot.

Order The William Evans Good Shoot Guide today