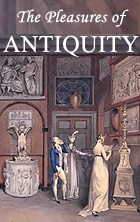 This country contained the finest private collections of antique sculpture in Europe 150 years ago. In the following century many collections migrated to exotic locations in America; a one-way traffic which is still in motion.
The story of how Classical sculptures were shipped back to England in the era of the grand tour has only recently been studied again.
Private Collections in British Houses
Jonathan Scott has produced an erudite and comprehensive piece, marshalling well-known characters such as the Earl of Arundel and Lord Leicester of Holkham into an incisive history.
He fleshes the book out with moreobscure figures like the youthful Talbot, whose statues remained in their packing cases for fifteen years, and includes William Stukley's vignette of the 8th Earl of Pembroke, moving restlessly through his scultpure-crammed rooms:
'So that you may suppose that he generally walks 10 miles a day in his own house and sometimes in his Slippers and sometimes is so busy that unless Ladies come to visit him he will fob off his beard (as he calls it) for two or three days.'
The Pleasures of Antiquityis packed with new information, on the mechanics of the antiquities trade, its transactions, dealers and values and economics.
An important distinction is drawn between collectors for whom antiques were costly architectural props, and the painstaking efforts of a later generation.
Scott frequently reminds us how all these men were deceived by flawed history and the fictions of the dealers who literally put together their collection.


Why Did These Elgin Marbles Chase Off the Competition?
He concludes by wondering why our reverence for the Elgin Marbles has resulted in neglectfor superb Roman statues, an anomaly which this marvellous book will surely serve to remedy.