Historic Houses president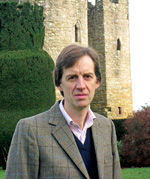 It is rather reassuring to find that Edward Harley, the new president of the Historic Houses Association (HHA), should not only be the owner of an estate that has passed by descent since Domesday, but also a fanatical country-house day-tripper: 'I love looking at houses. We often rent a Landmark Trust house and see as many historic houses as we can in the area. It requires bargaining with four daughters half a day at Alton Towers means we can go and see two houses afterwards.'

Mr Harley rather looks the part, too. He is immensely tall, with dark hair and dark eyes. He has something of the air of a 17th-century portrait, and, curiously enough, we soon find ourselves talking about that very century, discussing the famous siege of his family home, Brampton Bryan in Herefordshire. Mr Harley's parliamentarian ancestor, the splendidly-named Brilliana, Lady Harley, fought off Royalist neighbours when her husband was stuck in London. 'They were Parliamentarians, but Sir Robert, who was Master of the Mint, fell out with Cromwell when the Protec-tor wanted his portrait to appear on the coinage. Sir Robert was sacked, but, thankfully, was certainly not a regicide.'

Mr Harley moved to Brampton Bryan when he was two. The castle has been a ruin since the 17th century ('definitely best seen by moonlight'), but the family home is a handsome 18th-century house which film buffs will recognise as the grand Georgian pile bought by Anthony Hopkins' character in Howards End. 'It was a wonderful house to grow up in we were surrounded by history, portraits and objects such as the knife used in an assassination attempt on the life of Robert Harley, later Earl of Oxford, by a French spy.'

After Eton, Mr Harley studied land economy at Cambridge in 1978–82, before deciding on a career in the City, a familiar trend among his generation of landowners: 'I decided I had better go and do a job that could help keep the show on the road.' He worked for Cazenove in London and New York, and still works for them three days a week; he feels that '20 years working in the financial world can do no harm' in his HHA role (he has already been the chairman of the HHA's Political and Taxation Committee), together with his experience of estate management.

'My father was very good about involving me early on in the running of the estate. It's a major commitment looking after a family property; a nice problem to have, certainly, but a huge life commitment, nonetheless.' He has only recently moved into the main house at Brampton Bryan, as his mother continued to live there after his father died a decade ago. Since he and his wife, Victoria, finally decided to move in, they have overseen a major overhaul of the house, with Donald Insall Associates as architects, 'who have done a wonderful job, much of which was restoration, but also remodelling and creating a new large family kitchen, and renewing all the services, including installing a woodchip boiler'.
Mr Harley is the first president of the HHA to live in a historic house not normally open to the public. 'We do open for groups for charity. We aren't required to do so, but we feel it right, and enjoy welcoming interested parties. The HHA exists to represent all its members, and there are a number whose houses are not usually open to the public, but might have gardens or parks that are. The main issues are largely the same. I have been a trustee of various open houses, including Burghley House, for some years.'

What will the economic crisis mean for the owners of historic houses? 'It is possible that many of the commercial events at houses will have a challenging year, but I'm continually amazed by the tenacity and adaptability of the historic-house owner to find ways to attract visitors. The HHA has a technical adviser always on call to our members, and we exist to share advice between members and bring house owners together.

'We are lobbying the Government to try and improve the tax pressures on historic houses, as this is a world that has become a lot more difficult in recent years. For example, tax relief linked to maintenance of the house would make a lot of sense. Private ownership really is the most cost-effective way of preserving these houses, not least because the visiting public enjoys seeing a historic house that is lived in.' Clearly, this also applies to ones who live in fine Georgian houses in Herefordshire, too.