Self-confessed bon viveur Mark Priceis a firm believer in indulgence, and at Christmas he pushes it to the next level. Here's how.
The perfect Christmas Day has to be at home in Dorset – my gourmand journey begins there, in the early hours, in front of the flickering embers of a fire and surrounded by the travel snacks left for Father Christmas.
The midnight snack to kick things off: Father Christmas's nibbles…
My 15-year-old daughter, Lily, and I have not yet formally agreed that Father Christmas doesn't exist. She sees no commercial benefit in doing so and I welcome the extra eating opportunities the big white-bearded one brings.
Over the years, his nibbles have become more aligned with my own tastes. There was a time when St Nicholas seemed happy with a cheap mince pie, a glass of own-label sherry and a misshapen carrot for Rudolph. Now, Lily puts out a luxury, deep-filled, shortcrust mince pie, but certainly not one with something added to make it more 'interesting', such as Stilton or chocolate or swan. He hates all that.
Father Christmas enjoys his mince pie warm from the oven (not the microwave), with a dollop of Dorset clotted cream, washed down with a healthy measure of whisky. Aberlour is the current favourite – a light, subtle Highland malt, opened up with a drop or two of water.
…and don't forget Rudolph
These days, it's impossible to buy a single carrot. There seems little point in leaving a tray of carrots drizzled in honey for £3.99 on the doorstep, instead of the 10p stalwart, so, luckily, Rudolph has acquired a taste for a few squares of Green & Blacks 70% dark chocolate.
The key to breakfast: Keep it light, except in the case of the champagne
For Christmas breakfast, you can't beat freshly squeezed Valencia orange juice and Champagne, of course – I'd go for a Pol Roger Cuvée Sir Winston Churchill. It's Pinot Noir dominated, aged for 10 years and only 15 vintages have been released. Do not mix it with the orange juice.
For coffee, I go with Jamaican Blue Mountain, but make sure it's the real thing. We then have croissants – not the reduced-calorie-no-butter type, which taste of cardboard, but full fat with salted West Country Farmhouse butter. For conserves, look no further than Tiptree.
The reason for this light breakfast is that we go to church for the Christingle service and, after belting out a few carols, head home to begin the feasting proper, starting with…
Brunch: Go one better than smoked salmon with your scrambled eggs
I've moved from salmon to smoked trout, which I buy locally from Mere fishery. It's richer and more indulgent and goes well with scrambled eggs. You can't beat The Goring's scrambled eggs, but my wife, Judith, gives it a jolly good go. Toast, which is granary from the local Oxford bakery, with lashings of butter for me – and for Judith and the girls, avocado. Weird.
We take a bottle of Waitrose Blanc de Blanc – which is heavier in taste than the Pol Roger, as it's made with Chardonnay grapes – with us to pop in the sitting room before we open our presents and have our main Christmas meal in the evening, so the present giving isn't disturbed by food preparation.
Pre-lunch, and lunch: Grazing from a fridge that issues its own call to prayer
Lunch is a buffet-type affair. However, I must confess I do start grazing ahead of the formality. Our fridge has an alarm, which sounds if the door is left ajar. This happens quite often and acts as a call to prayer for me.
My reward for the calories expended in walking to the kitchen and closing the door is a snack. My childhood favourite is a crisp sandwich. I take two large San Nicasio crisps, cooked in olive oil (the best crisps in the world), and place between them some crumbly farmhouse Cheshire cheese. Bliss.
At lunch, we tuck into cold cuts. York ham is worth sniffing out or that from around Calne, where the Wiltshire curing method originated. The cold, home-cooked beef is preferably from a 30-day, dry-aged, Aberdeen Angus winged rib of sirloin on the bone. Both the pork pie and scotch eggs come from Holebrooks, our local deli, and are made from local, free-range pork.
Include a good quiche Lorraine, loaded potatoes, green leaves and a potato salad. Accompaniments are pickled onions plus sourdough and granary bread. Don't forget the cheese: it must include Colston Bassett Blue Stilton, Cornish Quartz and Brie De Meaux, plus perhaps a Port Salut and a Lancashire.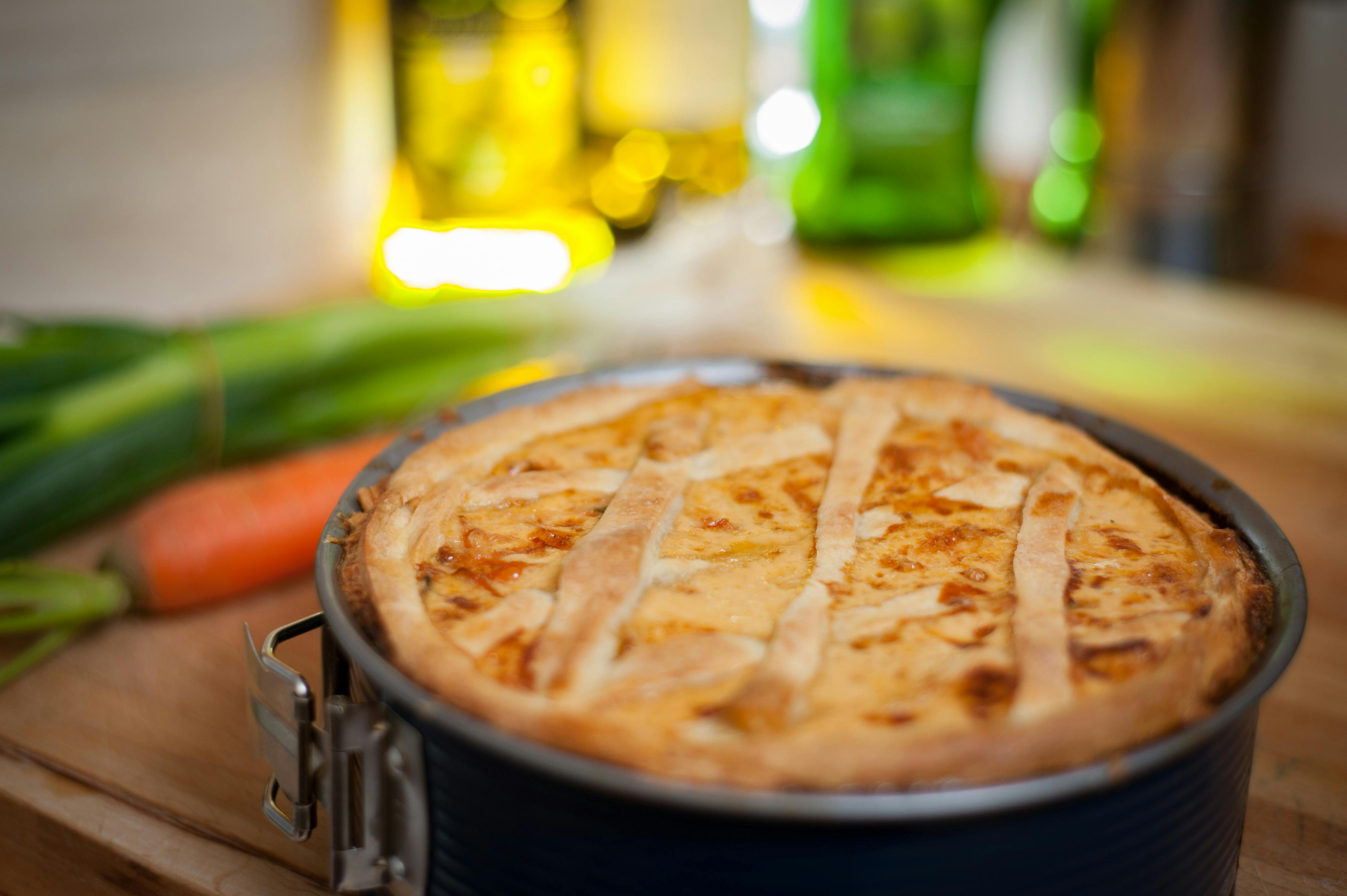 As for wine, here's my Christmas gift to you: for a great-value white and red, go for Rustenberg. Michel Roux Senior knows his wine and mistook the Chardonnay for an expensive Burgundy. For red, try the John X Merriman. A Bordeaux blend. Done.
For pudding, something cream-based is obligatory. Luckily, now that we import food from around the world, it's possible to have strawberries rather than turnips for pudding. Berry pavlova hits the spot and I wouldn't grumble at a nice slice of Dorset apple cake.
When walking off the lunch, don't leave home empty-handed
After the warm-up for dinner is completed, a route march is required with the dogs. I make it a rule never to leave home without food about my person: a Double Decker, purloined from Lily's selection box, and a shot of sloe gin make for a reviving halfway refresher. It's also an opportunity to enjoy a good cigar, which has to be a Cohiba Behike 56, the best, biggest and fattest in the range. If you prefer a milder cigar, go for a Montichristo Edmundo.
On our return, a warming toddy is required. I'm not one for warm alcohol with fruit and spices in it, but a King's Ginger – concocted for Edward VII by Berry Bros – goes down well. A slice of Christmas cake is obligatory.
The main event
As we settle down with the harmonising words of Her Majesty, the smell of one of her son and heir's Duchy organic turkeys fills the house. With the Duchy sprouts and carrots peeled and sliced, it's almost like being at Sandringham. The second The Queen signs off with her engaging smile, my eyelids fall shut as if begging to dream of what lies ahead.
When I wake, we're ready to go. The table's been laid by the elves and a magical banquet prepared. Judith looks magnificent, Lily and her elder sister, Holly, are singing carols and I need to open the Champagne and wine.
Stage 1: The canapés
These must include mini sausages (Duchy ones drizzled in honey), Iberico Bellota jamón, quail eggs with celery salt, caviar (try the British farmed version from Exmoor Caviar) and H. Forman & Son smoked salmon.
Stage 2: The starter
This has to be the starter, along with prawns in cocktail sauce, but go for European lobster rather than American or Canadian. The best are caught off the Norfolk coast.
Stage 3: The main course
A free-range, bronze-feathered turkey with all the trimmings.
Stage 4: The Christmas pudding
It has to be homemade Christmas pudding with XO Fine Champagne Cognac Vielle Reserve (to drink, not waste in burning). Madeira – a fine cheese and pudding companion – is often overlooked, but excellent value.
To wash it all down
For the Champagne, I'd head for the comfort of Bollinger and a Grande Année, only produced when there's an exceptional harvest. Otherwise, its Special Cuvée is excellent. If you're feeling patriotic, plump for an East Sussex Ridgeway sparkling wine. Served in Buckingham Palace and 10, Downing Street, my favourites are the Blanc de Noirs and, for the all-important pudding fizz, a Rosé de Noirs.
As for the white wine? Montrachet Grand Cru. Red? For me, always a Haut-Brion. And for pudding wine it's hard to get past Château d'Yquem.
Room for just one more nibble…?
Not a wafer-thin mint, but whisky and chocolates. Specifically, a Laphroaig Quarter Cask and Madecasse chocolate, all taken in the sitting room.
And then to bed…
Well, we're almost there, the perfect Christmas Day. I need a light winch to help me up and then to sleep, perchance to dream.
Aye, there's the rub – another 364 days until this fine feast day returns. We'll need to find another excuse. How about if I offer to do a regular review of the world's finest eating establishments? Now, there's an idea. Dream on, MacDuff!
Mark Price's 'The Food Lover's Handbook' is published by Ebury Press (£14.99)