Whether you're heading to RHS Chelsea or not, don't miss our look at the sights and sounds that you might otherwise miss at the iconic flower show.
Pimms on tap – with a queue by 11am
A tea stall where you can enjoy a cuppa from genuine Wedgewood china
A Solar System made from chrysanthemums – complete with a rotating Planet Earth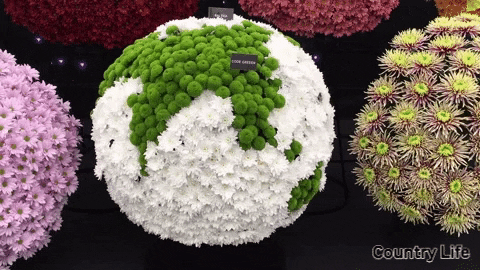 Inspirational quotes from Vita Sackville-West and Gertude Jekyll emblazoned across the site as if they're mantras from the Dalai Lama
Dorian from Birds of a Feather, Christopher Biggins and Peggy from Hi-de-Hi – it's a C-list party dream.
An actress sitting all day on a bench, musing gently about art, nature and man
Hand-made wooden rocking chairs – for the garden
Daffodils in summer
A garden designed in the form of a miniature London square
A security guard saying into his walkie talkie 'Okay Dave, the champagne lorry's coming through now'
People dressed for a night at the opera at half-past nine in the morning
Gold leaf gardening gloves
Rhythmic gymnasts in gold spandex outfits jumping up and down between flowers, shrubs and garden sculptures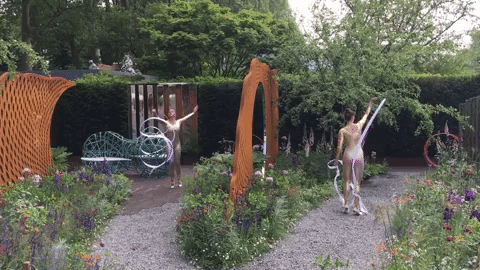 "Is this Yorkshire? No, it can't be. It must be South Africa."
A pair of 20ft-high horses made from driftwood
Flesh-eating plants presented as lovingly as the most beautiful, fragrant bloom
A Windrush garden co-sponsored by Baroness Floella Benjamin of Playschool fame
A genuine stone-built Pennine cottage in a the middle of a city (at SW3 prices, it'd probably cost a couple of million)
Rob Brydon, Esther Rantzen, Nick Frost…
A dinner party setting outdoors, complete with kitchen
Gourmet cheese toasties
An enormous blue head made from glass
A truly beautiful painting of the Khayelitsha shanty town near Cape Town
The biggest set of cricket stumps we've ever seen
More Panama hats than you'd see in the members' enclosure at Lord's… and the shop where they must sell them. It's Panama hat ground zero
A metal bench in the shape of a rabbit and a Chesterfield sofa made from metal
Ainsley Harriott, that girl from the One Show, the bloke from DIY SOS…
The best treehouse we've ever seen – complete with slide! (And yes, we did try it out…)
A garden sponsored by a group of PPI-chasers called The Claim Guys
A rainbow of lupins
Countless things so enormously heavy that you wonder how on earth they made it here in the first place
A garden pod representing an NHS clinic
A dozen thrones made from flowers
The very best bits of the National Dahlia Collection
A wickerwork dolphin leaping out of the 'sea' next to a transatlantic ship
James Martin, Bill Turnbull, Kirstie Allsopp…
Salt and pepper grinders made in the shape of chess pieces
The RHS has announced the gold medallists for the 2018 Chelsea Flower Show.
A beautiful country house is as much about its surroundings as its bricks and mortar, something that the best garden