Joe Gibbs looks back on his week and despairs of a judge who refused to accept the truth that all dog lovers know instinctively: a dog really is a member of your family.
'Your terrier is not family,' Judge Donald Cryan told a couple in a recent eviction case at the City of London Court.
Thus the unfortunate Mr and Mrs Kuehn were denied the company of Vinnie, their Morkie (Yorkshire-Maltese cross) terrier, in the Limehouse penthouse where they had dodged the 'no dogs' rule by claiming their pooch was part of the family.
How can our learned friend be so sure about Vinnie? My terrier, Moon—a teacup Jack Russell, incorrigibly wicked, apple of my eye—may only share 84% of her DNA with me (my teatime banana shares 50%), but she's closer to being human than some humans we know.
My wife allows Moon to share the marital bed on strict condition that she lies on top of the eiderdown in Tottering-By-Gently style. During her absence, far away on the dark continent, I have woken each morning to find Moon and I are snugly measuring our lengths against each other between the sheets. I can vouch that this will revert to default mode when my wife returns without anyone having to say anything.
Recommended videos for you
We are seeking a suitor for Moon: he must be short-legged, amusing, intelligent, sleek, armigerous, in possession of a good fortune and sans peur et sans reproche—the reproche bit is demanding for a Jack Russell, but only the best will do for my girl. We have yet to fasten the family pearls around her neck and despatch a photograph to the Country Life Frontispiece page, but it may come to that. My eldest daughter, who had the honour of featuring there, tells me it's known affectionately as 'dog of the week'. What could be more appropriate?
As for Judge Cryan, he should find a copy of My Talks with Dean Spanley (1936) by Lord Dunsany. The narrator, a scientist with an interest in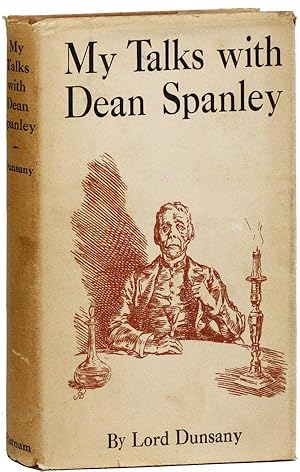 the transmigration of the soul and reincarnation, falls into conversation at his club with a dean with a curious past. After judicious application of vintage Port and Imperial Tokay – a Hungarian nectar to which the dean is vulnerable – the author coaxes from him a description of his former life as a dog.
The book is also memorable for the imprecation, 'never trust a teetotaller or a man that wears elastic-sided boots'. Far be it from me to suggest that Judge Cryan is either, but he may yet return as a Morkie in a life to come.
DNA has been occupying our minds in another way. The gods of the silver screen don't often flutter over these barren parts—the last time, they plucked Karen Gillan to be a companion on Doctor Who—but they've sent us Diana Gabaldon, whose 'Outlander' books have become boxset blockbusters, located in the Highlands and based on the Lovat family in the Jacobite era.
The effect has been a remarkable increase in tourist traffic to the Wardlaw Mausoleum, a lovely old building wherein lie the mortal remains of Lord Lovat of the '45. Or do they? Lovat was the last peer to be executed in Britain for his part in the rebellion. Although he asked to rest at Wardlaw, the Government decreed burial in the Tower of London to prevent the corpse becoming a focus for trouble.
During my father's five-year tenure as Constable of the Tower, he doubtless thought he had custodianship of Lovat's bones, which were buried there by his predecessor, Earl Cornwallis, under the chapel of St Peter Ad Vincula. When the floor was relaid in the 19th century, a coffin was there bearing Lovat's name and a long inscription on a brass plate.
However, not long after Lovat's burial, reports circulated that the undertakers, at the family's behest, swapped his body for that of another. Lovat, meanwhile, had been taken from Gravesend to Beauly by ship and, in Wardlaw's dank crypt, there is a coffin that bears an identical inscription to that in the Tower. Lovat, whose political allegiances in life were nothing if not in two places at once, seems to have managed the same feat in death.
Last week, Dame Sue Black, the celebrated forensic anthropologist who hails from Inverness, came to solve the conundrum. Lovat's undertakers are recorded as having sewn his head back onto his body, but, on opening the Wardlaw coffin, Dame Sue found no skull. However, there are signs of grave robbers and the skull could have been taken as a Jacobite relic.
DNA can't help, as Lovat had no sister with female descendants (male DNA changes between generations), so Dame Sue will examine the skeleton to postulate the disease suffered by the previous occupant and method of death to see whether they match Lovat's. What could help her mission—and Wardlaw's campaign to raise £50,000 for repairs—would be the unearthing of the coffin in the Tower. If it contains bags of sand, Wardlaw may have its relic.
Joe Gibbs lives at Belladrum in the Highlands and is founder of the Tartan Heart Festival