When Babs Day, the Headteacher of Longwill School for the Deaf in Birmingham, wanted to find a way to introduce country and animal experience to her urban, inner city school her main problem was suitable homes for them during school holidays
Happily, she that discovered Claire Peach, a self-confessed former 'townie', offers the perfect solution. Hens for Hire is her unique service that provides schools with all the advantages of hen keeping while relieving them of the responsibility during school holidays.
 
Providing schools with the expertise, tools and staff training to look after the animals, Hens for Hire is a project that highlights the benefits and rewards of animal care for students ordinarily without exposure to such opportunities.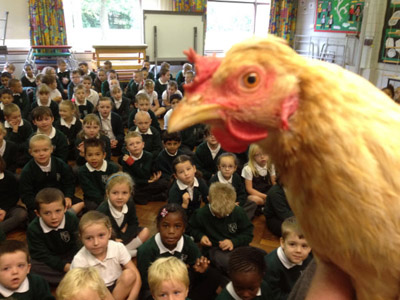 * Country Life New Year subscriptions sale
'The children love them and even better, do not tire of caring for them and getting the reward of two eggs every day,' Mrs Day enthuses, 'we make graphs of their egg count, make mini-enterprises such as egg-selling weeks, and we make films about their care.'
Longwill School is not the only school to have caught on to such an exciting venture. Hens for Hire has hens in Birmingham, London, Bournemouth and Liverpool with 8000 school children across the UK currently enjoying the experience of hen keeping.
 
Kelly Lickley from Minworth Junior and Infant School in Birmingham has noted the contribution of the hens to school life as a whole citing 'working relationships, peer activities and the school ethos.'
 
'It has been a great first year,' Mrs Peach acknowledges about her successful enterprise, 'keeping hens helps connect young people with their environment, food and animals in both urban and rural settings'.
* Follow Country Life magazine on Twitter