Historic country houses on the market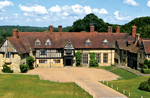 The country-house market has much to thank Academia for. In the 1950s and 1960s, when many grand country houses were demolished because no one could afford to run or repair them, a fortunate few were reinvented as educational establishments of one sort or another. Now, it's the schools that are closing, and a number of unspoilt architectural gems, some unseen on the market for 50 years or more, may soon be restored to their former splendour.

Once one of East Sussex's finest country houses, Grade II*-listed Dutton Homestall (pictured) at Ashurst Wood, near East Grinstead, has been better known in recent years as Stoke Brunswick prep school, founded in 1958, which closed in July this year. Knight Frank (020-7629 8171) quote a guide price of £6 million for the intriguing part-medieval, part-Tudor house set in 28 acres of magnificent grounds, which include formal and pleasure gardens, woodlands, playing fields, two tennis courts, a nine-hole golf course and a covered swimming pool.


The oldest part of the property, The Homestall, was originally a simple farmhouse, built in about 1350 and used as a hunting lodge by John of Gaunt. In 1907, whisky distiller Lord Tommy Dewar bought and restored The Homestall and remodelled the gardens. When Dewar died in 1930, the estate passed to his nephew, John Arthur Dewar, who used it as his weekend country retreat, while living at Claridge's during the week. But his new wife, Kathleen, declared that the house was simply not big enough for the kind of lavish entertaining she had in mind, so Dewar bought Dutton Hall, a Tudor mansion in Cheshire, and had it dismantled and rebuilt, brick by brick and timber by timber, beside The Homestall.

Dutton Homestall was the scene of many an extravagant weekend party in the run-up to the Second World War, when it became a convalescent hospital for injured fighter pilots. In 1955, the Dewars sold the estate to a Liberal politician, who owned the original Brunswick School in Brighton. Most recently, the main house has been split into two parts, one housing the headmaster and the other the school bursar. Both have been beautifully maintained and, according to Knight Frank, could be renovated, with minimal alteration, as one spectacular dwelling, with a splendid grand hall, large panelled reception rooms and numerous bedrooms.

Offers of £4m-£4.5m are invited by joint-agents Jackson-Stops & Staff (01730 812357) and Knight Frank (01483 564660) for another former school campus, St Cuthman's at Woolbeding, near Midhurst, West Sussex, which first became a school in 1939 and, post-war, a girls' school and then a council-run school for children with special needs, which closed in 2003. The main house, listed Grade II, was built in 1874-76 by Richard Norman Shaw for stockbroker Alexander Scrimgeour, when it was called Wispers, after the name of the woodland that lies behind it.

In 1928, the Bedford estate bought Wispers as a weekend retreat for Mary, Duchess of Bedford, who took to flying in 1926 at the age of 60, when deafness ended her hospital work at Woburn. She doubled the size of the house with the addition of a huge new wing, and built a vast hangar that later became the school gym; the next-door field was used as a landing strip. The 'flying duchess' made record-breaking flights to India and Africa, and flew all over England in a Tiger Moth until, one day in 1937, she took off on a flight to Cambridge and never returned. Her body was never found, but wooden wing-struts were later washed ashore at Yarmouth.

The tranquil 35-acre property, which has views of the South Downs, has planning consent to create a new 'hamlet' by converting the 20,000sq ft main house and its later extensions to seven new apartments; renovating and extending a pair of traditional semi-detached cottages; replacing the former coach house with a new five-bedroom house; converting a brick-and-stone barn to a three-bedroom house; and replacing a pair of 1970s cottages with another new five-bedroom house.

* For more properties like this every week, subscribe and save