There are many ways to show your Dad that you love and appreciate him. There's breakfast in bed, an offer to mow the lawn, a big hug and the offer of the last biscuit.

Or you could just buy him something that he definitely doesn't need, but we're pretty sure he'll want.
Three months of getting the magazine delivered to your dad's home every week costs just £43.99.
Obviously we may be slightly biased, but this really is a bargain.
£43.99 for three months from Country Life
---
Recommended videos for you
For whisky-loving dads, this is a real head-turner, and something of a master distiller's mad scientist moment. The distiller in question, Bill Lumsden, decided to remove the copper purifier during the creation process to ramp up the flavouring and create what they say is 'the ultimate experimental Islay single malt scotch', with notes of dark chocolate, mint and peat smokiness all on the tasting notes.
It's not the first time they've tried something wacky, but it's probably the most successful so far, with the Whisky Exchange's Bill Abbott saying the gamble has 'paid off here – this is definitely Ardbeg, but not how you've tried it before.'
Alternatively, and perhaps ideally if you're buying for a dad who is just getting in to whisky, the Drinks by the Dram tasting set offers a range of different whiskies for £20. And the choices are very much not the normal single malts you'll find on the supermarket shelf: a 10-year-old Aerolite Lyndsay from Islay and a Finnish smoky rye whisky are among the tots on offer.
---
If your dad is the type who'd love a beautiful Turner print from the National Gallery shop, we'd advise you to scroll right by. But for those with dads who still wish they were living their student days, these effortlessly cool prints of images created by some of the best young designers out there could be a perfect choice. Quality printing and paper, and the sort of eclectic collection which means you'll be able to find something for pretty much anyone.
Prints from £15; as illustrated £50 (A3 size), not including frame
---

Gadget-loving dads are spoilt for choice at this time of year, and this one is a solid idea: the Trust Lyra is a wireless keyboard and mouse set that connects wirelessly (either via Bluetooth or via the included wireless dongle thingy) to phones, iPads, laptops and pretty much anything — and unlike most similar devices, it can switch between three different devices with the press of a button. Quality-wise the keyboard is solid and pleasant to type on, and the mouse worked well, though both keyboard and mouse could do with more weight. It's probably not what you'd want to use all day every day for work (and we did run in to a weird glitch, on Apple computers only, when using an admittedly fairly arcane keyboard combination) but as a quick and relatively inexpensive way to turn your iPad into a mini laptop, this is grand.
---
It's a little teapot, short and stout. And basically indestructible: enamelware is, as Falcon explain, 'porcelain fused onto heavy-gauge steel, giving it durability, smoothness and chemical-resistance.' So if your dad is a clumsy type, he'll never smash another teapot again.
---
If your dad is truly in to wine already he probably already has a Coravin, which lets you draw a single glass from a fine vintage bottle of wine, without having to open the whole thing. But if he doesn't, or he's just taking his first steps as an oenophile, it's more or less a must-have — os so celebrity fan Oprah Winfrey says. And if you don't believe Oprah, then Alexander Armstrong of Pointless fame chose it as one of his luxuries when speaking to us a few years ago.
£249.99 (currently on sale at around £187), Coravin — www.coravin.co.uk
---
Cutter  & Squidge's best-selling brownies in six flavours, with three bottles of beer: an IPA, an American Pale Ale, and a 'Small Beer' lager.
In other words: Beer and brownies. Tick and tick. Beautifully-packaged and the sort of gift you can't wait to jump in to. As you'd expect of any selection box there are hits (the salted caramel and millionaire shortbread flavours in particular) and misses (the peanut butter brownie, and the Small Beer is weak and tasteless). But that's all part of the fun.
---

Arguably the ultimate petrol-head's experience — and certainly among the most expensive — this six-hour tour of the McLaren Technology Centre just outside Woking in Surrey allows a rare glimpse behind the curtain of one of the most storied and glamorous organisations in motorsport.
This tour includes a number of previously off-limits, unseen parts of the facility, relating both to the Formula 1 cars and the road-going McLaren supercars. You'll see everything from the production floor to the mission control room used on race days by the F1 team and vintage McLarens as driven by the likes of Ayrton Senna.
---

Bathtub Gin has long been a favourite among the Country Life team, and this new bottling gives a lovely extra layer. Don't expect a strongly flavoured gin along the lines of the Whitley Neil stuff you might have tried in the past; this is delicate, subtle and fragrant, ideal for those seeking a bit more from a classic gin.
---
Wildly popular with 'the kids', this German innovation is a terrifically clever idea which bubbles flavour into boring old water as you drink, delivering the taste via a replaceable plastic pod. Taste is 80% smell, the makers point out, and this tricks your brain into thinking that you're having a soft drink instead of H20.
It's pricey, but beautifully engineered (especially the insulated steel ones) and a bright idea to help those who just can't stand drinking plain water. Does it really taste like drinking cordial or similar? We wouldn't go that far, but the taste is clearly noticeable  — and if you think a fairly subtle flavouring effect would impress dad, it's gadgety and fun.
Air Up bottles from £24.99 (£44.99 for steel version); flavour pods from £4.99 for three
---

Dads and condiments: always a perfect combination. The company sell this lovely box set direct, but they're also well stocked in decent supermarkets these days — in other words, if you're reading this at 5:30pm the night before the day in question, you've still got time to nip down to Waitrose and buy a few that your think your old man would love; and while we've yet to try it ourselves, the Special Edition Rhubarb & Ginger Chutney sounds incredible.
£21.95 from Tracklements
---
A 'refreshing modern craft blend of single malt Irish whiskey, silky Belgian white chocolate and fresh Irish cream' that was 'born of a vision to reinvent Irish Cream Liqueur for a modern world', according to the makers. We're not entirely sure why Bailey's and its ilk really needed re-inventing (it's essentially boozy milkshake, right?) but it's a light and refreshing drink with plenty of flavour, and a fair bit less sickly-sweet than Bailey's. Fine-looking bottle too.
£32.99 for 1 litre from Waitrose (£26 for 70cl)
---
An absolute winner for a gadget-loving father — particularly if your dad regularly catches trains or aeroplanes, or (and there's no nice way of saying this) happens to share his residence with somebody who talks a little more than he'd ideally like. If any of those apply he'll thank you profusely for going for these utterly superb — but very pricey — headphones. Too pricey? The non-pro 3rd generation AirPods are almost as good but come without the noise cancelling cleverness — you'll save around £100.
Apple AirPods Pro 2nd generation, £249 from johnlewis.com
---
You might not be buying him a weekend away… but you can buy him a bag for the occasion. The market is saturated with luggage but this one from Stubble & Co, made from waterproof canvas and natural full grain leather, is one of the best holdalls and weekend bags, and also won't break the bank. It has a 42 litre capacity, laptop pocket, a detachable and adjustable shoulder strap plus a reinforced base with 6 studded 'feet' for protection. It comes in five different colours — all of which are smart and understated.
£165 from www.stubbleandco.com
---
There's a touch of 1930s wireless chic about this multi-talented speaker, which can connect to your dad's musical sources via Bluetooth, Wifi, Apple Airplay and Spotify… and best of all, unlike most wireless speakers there's an old-school socket on the top so that he can plug in his CD player or turntable. I think we all know he'll be happier that way — and the sound from this loaf-of-bread sized box is room-shaking.
---
Yes, it's boiling hot in Britain right now. But you know that by July it'll be overcast, windy and 14 degrees again. Plus this is year-round sea shanty-chic for your old man.
£118 from Celtic & Co
---
'£210 for a wallet? My brother bought one at the Christmas Fair for £1.50 and it's great!' Such was the verdict our digital editor's nine-year-old daughter on this Ettinger wallet when she spotted it over his shoulder. To be honest this one would have been out of her price range anyway. And his.
Ettinger billfold wallet — £210 — see more details.
---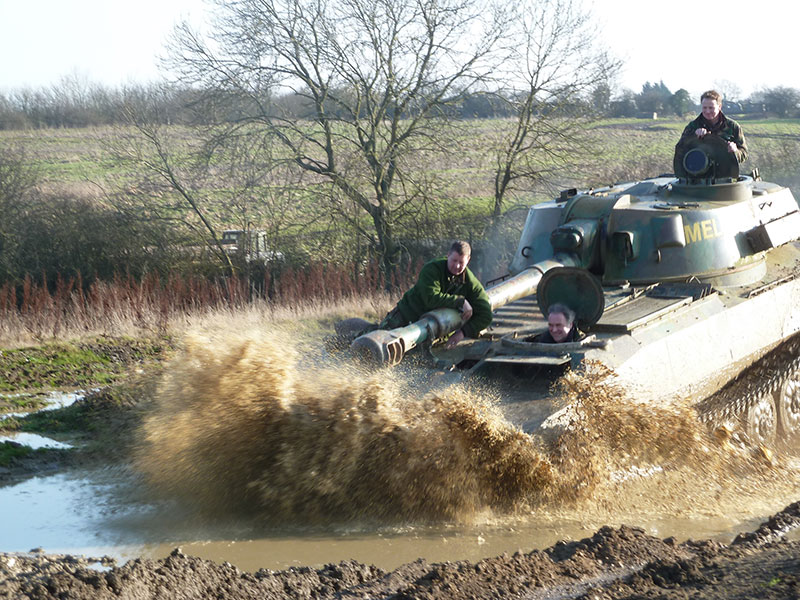 Who doesn't want to have a go at driving a tank? From car-crushing to paintball, you and your father will delight in taking control of these mighty machines and enjoy a mind-boggling rush of power as you destroy everything in your path. (Just don't let dad get carried away and go on a rampage in the car park.)
From £165 at www.tankdriving.co.uk
---
Let's get one thing clear: on NO account should anyone ever buy socks as a present, unless specifically and clearly requested to do so. Forget all of Samuel Johnson's 'patriotism is the last refuge of the scoundrel' stuff; if the great man were alive today he'd be even more incandescent about those anyone who has ever uttered the words 'I suppose I can just get him some socks.'
That's not to say that nice socks aren't great, but there are some men out there — bless them — who do indeed wish to get given socks, and make it clear. In those circumstances alone, posh ones are clearly best.
Pantherella cashmere socks from around £77 via harrods.com; monogrammed Pantherella Waddington model available direct from pantherella.com
---