There are many ways to show your Dad that you love and appreciate him. There's breakfast in bed, an offer to mow the lawn, a big hug and the offer of the last biscuit.

Or you could just buy him something that he definitely doesn't need, but we're pretty sure he'll want. Happy Father's Day!
Looking for something more food or booze-based? Read our Best Father's Day food and drink gifts guide.
---

We didn't honestly know what to expect of a product billed as 'the ultimate Zoom shirt' — from the pictures you'd think it was a perfectly nice, but completely normal shirt. But the beauty of Cast & Lane's Four Seasons shirt is in the material: instead of a hard cotton with no give, this naturally stretches and moves with your body, feeling much more like a polo shirt than a dress shirt. That alone, to us, is worth the cost of entry: if you've a dad who hates wearing stuffy shirts, this is a great idea.
£65 from Cast & Lane
---
You can't go wrong with a classic wallet — and this simple but classic one from Asali will please any Spitfire fan. Made from Italian soft leather, you also have the option to add personalised initials. We recommend D-A-D.
£49 from www.asalidesigns.co.uk
---
You might not be buying him a weekend away… but you can buy him a bag for the occasion. The market is saturated with weekend bags but this one from Stubble & Co, made from waterproof canvas and natural full grain leather, is a great option that won't break the bank. It has a 42 litre capacity, laptop pocket, a detachable and adjustable shoulder strap plus a reinforced base with 6 studded 'feet' for protection. It comes in five different colours — all of which are smart and understated.
£155 from www.stubbleandco.com
---
There's a touch of 1930s wireless chic about this multi-talented speaker, which can connect to your dad's musical sources via Bluetooth, Wifi, Apple Airplay and Spotify… and best of all, unlike most wireless speakers there's an old-school socket on the top so that he can plug in his CD player or turntable. I think we all know he'll be happier that way — and the sound from this loaf-of-bread sized box is room-shaking.
---
Also known as 'what to get the man who has everything, after you've exhausted all the 'man who has everything' lists'. A silver lid to replace the pesky plastic that sits on the top of your marmite jar; it's hilarious, preposterous and yet brilliantly eccentric; a little silver love letter to Marmite.
£185 from Theo Fennell
---
These NURVV Run smart insoles for a running-and-gadget-obsessed dad are fantastically clever, tracking all the usual metrics of time and distance, but also analysing your 'gait' to help you run better and avoid injury. We've looked at them before in more depth and came away very impressed.
£249.99 from Amazon
---
Sea shanty-chic for your old man.
£105 from Celtic & Co
---
Perfect for tennis-mad dads who want to get some practice in all on their own: a portable ball-slinging machine to help him repeatedly drill those topspin forehands down the line. It's completely portable, so he can even take it from town to country — and perhaps, one day, from tournament to tournament.
£795 from Framework Sports
---
Look, there's no denying that some people just need a little bit of extra help in the wardrobe department. Enter this crew neck jumper from T M Lewin — it's no fuss, smart and would suit almost any style. The merino wool also helps to regulate body temperature and wicks away moisture. Let's just hope by the time Father's Day rolls around we won't be needing to wear wool jumpers…
---
The Google Nest Hub can be used in all sorts of ways, but to all intents and purposes it's just an old-school 1980s-style alarm clock radio re-imagined for the internet age: it'll perform the same everyday miracles with smart home control, apps, music and Google Assistant as a mobile phone.
But there's one crucial extra: it's also loaded with a sleep sensing technology which can track your sleep — and therefore help root out problems — without the need to wear sensors. Clever stuff — though if it helps your dad stop snoring, perhaps we ought to have included this in the Mother's Day gift list as well…
£89.99 from Google
---
If you're looking for something a little bit different, why not gift your Dad a furniture building course. This three-day course at West Dean College in Chichester is for absolute beginners — in other words, perfect for dads with all the gear (powertools, workbench, selection of saws for various types of wood) and no idea. Who knows, you might even get something useful for yourself at the end of it. (I think we all know that isn't going to happen.)
Make simple furniture, for complete beginners — £397 at www.westdean.org.uk 
---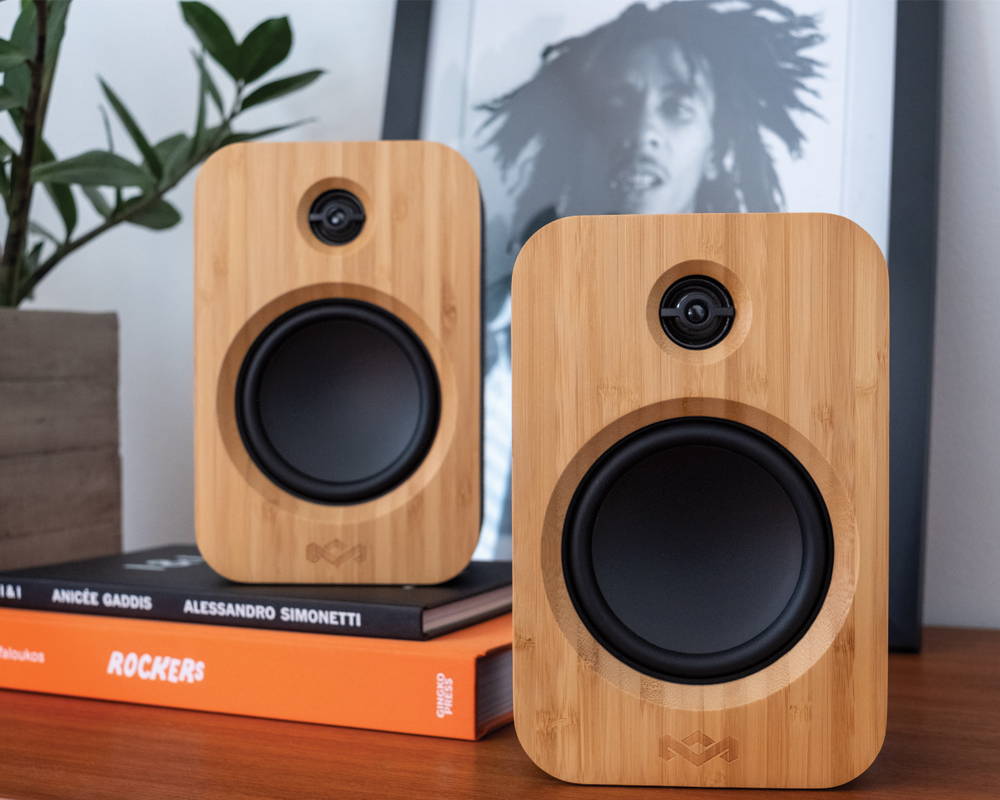 A great eco-conscious gift option comes in the form of these speakers — not only do they look wonderful, but they're also sustainable, made from bamboo (one of the fastest growing plants in the world) and a 'Rewind' fabric, made from a blend of recycled materials including reclaimed cotton, hemp and recycled PET.
One speaker is designed to live at home and the other is portable, designed to take with you wherever you go. The portable option has a battery life of 20 hours, and both sync up with the other when they are in close proximately, creating a clear, surround sound. They are also delivered in eco-friendly packaging (win win) and The House Of Marley plants a tree with every purchase as part of their green initiative. A 2-in-1 option for a gift and helping to save the planet!
£179.99 from www.houseofmarley.co.uk
---
The Camden Watch Company create watches made with the same high level of detail and care as higher-end options, but at a much more affordable price. The classy No.29 Crest Edition, inspired by pocket watches worn by Camden train workers in the 1900s, is a timeless piece (hey, Dad jokes are allowed in this piece) with a leather strap. It's water resistant up to 50m and its elegant design with subtle colour details ensures it can be dressed up and down.
£138 from www.camdenwatchcompany.com
---
These cards have a license to thrill.
£4.98 from www.amazon.co.uk
---
'£190 for a wallet? My brother bought one at the Christmas Fair for £1.50 and it's great!' Such was the verdict our digital editor's nine-year-old daughter on this Ettinger wallet when she spotted it over his shoulder. To be honest this one would have been out of her price range anyway. And his.
Ettinger billfold wallet — £195 — see more details.
---
It's too hot for wax jackets at this time of year, but Barbour have some other bits. (They're also cheaper. No need to thank us.)
Barbour t-shirt, £21 via flannels.com
---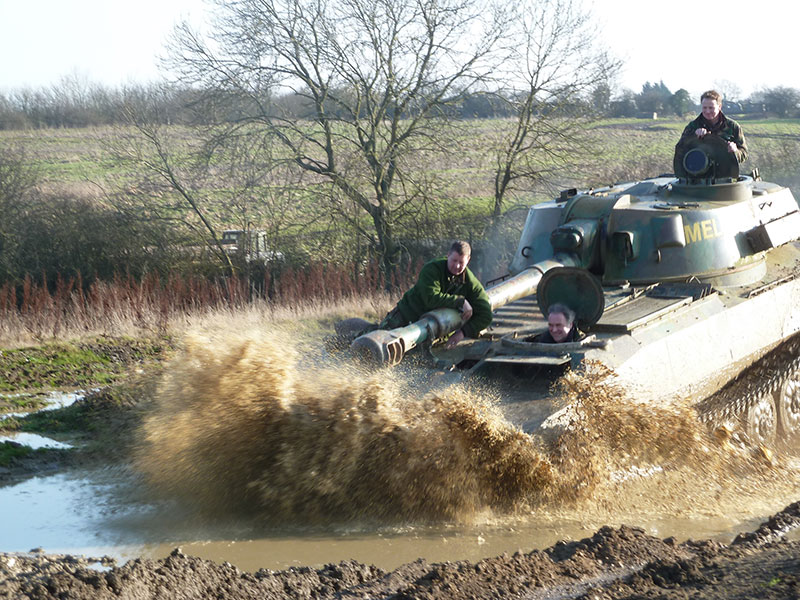 Who doesn't want to have a go at driving a tank? From car-crushing to paintball, you and your father will delight in taking control of these mighty machines and enjoy a mind-boggling rush of power as you destroy everything in your path. (Just don't let dad get carried away and go on a rampage in the car park.)
From £120 at www.tankdriving.co.uk
---
Surprisingly comfortable, and very easy to erect, Melvill & Moon's smart field chair will allow Dad to take a seat wherever he wants. Just resist the temptation to loosen all the screws for a comedy 'collapsing chair' moment.
Melvill & Moon field chair — £250 — see more details.
---
If your dad is an old-fashioned, macho type who'd look askance at being sent flowers and chocolates, this pineapple plant is just the ticket. (Unless you want one which will grow to be edible.
£40 from Bloom & Wild — see more details
---
Keep your dad looking smart. Just make sure he doesn't wear them with shorts.
Pantherella cashmere socks from around £60 via harrods.com; monogrammed Pantherella Waddington model available direct from pantherella.com
---
Credit: Leo Acker/Country Life Picture Library
We've rounded up all the utterly inessential products that you absolutely do not need (top hats for Ascot aside) to
Credit: Boundary Project
The chill of February is ill-fated to be accompanied by a day dedicated to those lucky few among us who