Lobster through your letterbox? Cheese by courier? Emma Hughes goes behind the scenes with the firms keeping connoisseurs posted.
I will always remember the day our Waitrose opened. It was 1993 and the small town I grew up in had never seen the like before. On the first day of trading, there were scenes that I was reminded of when watching the locusts decimating Madagascar on David Attenborough's Planet Earth II. People crowded around the counters with the open-mouthed astonishment of Howard Carter peering into Tutankhamun's tomb. Yorkshire rhubarb! Potted shrimp from Morecambe! Six different types of Cheddar!
Since then, we've come a long way, but the real jewels in the country's culinary crown – by definition, seasonal and hyper-local – can still be tricky to get hold of and enjoy at their peak. Step forward the savvy suppliers who make it possible to feast on the best of British, whether you're in Land's End or central London.
Leading the way is Donald Russell. A Royal Warrant holder, the company will let you order restaurant-quality cuts of meat online, then it packs them into special dry-ice boxes and couriers them across the UK (and further afield; it's worked with the Raffles Hotel in Singapore). Recently, it's branched out into life-savers for frazzled hosts, such as stuffed pork shoulder and Jacob's ladder that's been slow-cooked
for 10 hours.
'I'm really protective of what we do,' says head of production Mark Farquhar. 'It's so different to anywhere else.' He's been with the company since 1990, when, as a young butcher, he became 'one of the guys on the line'.
'It was a real step up for me,' he remembers, 'seeing meat being matured for 28 or even 35 days and learning the difference between cutting fresh meat and meat that had been aged. It was such an eye-opener.'
Soon, he was specialising in the cutting of steaks – a side of the business that has its own department. 'You have to be within 8g of your target weight. We put a lot of effort into making sure the customer gets what they've asked for,' he says. 'One of the advantages of what we do is that we can get meat into the freezer when it's in absolute peak condition.' Donald Russell meat is 'snap-frozen' in an ice-crystal-free process that's twice as fast as domestic freezing, meaning the quality of its products is as good – if not much better – than the vast majority of fresh meat.
For all the modern procedures, Mr Farquhar insists: 'We are a traditional butcher. Our tools are a meat saw, a deboning knife, a trimming knife and a knife for cutting the steaks and that's it. There's no automation. Our specialist equipment is people.'
Donald Russell has its own independently audited apprenticeship scheme – two or more people per year are taken on for training that lasts at least three years. Mr Farquhar hopes this will ensure tried-and-true skills aren't forgotten. 'Butcher's shops are a dying breed in the UK,' he confesses sadly.
'Yes, the demise of the high-street fishmonger left a huge gap,' Rob Wing tells me over the phone from Cornwall. He set up Wing of St Mawes 30 years ago, supplying the top end of the restaurant trade. Then, in 2009, he launched The Cornish Fishmonger, its retail arm. His clients include London-based politicians and A-listers (he won't name names), but he's sent everything from live oysters to Dover sole as far as the lowlands of Scotland.
'People worry about fish, but if you go through an expert, it can be really easy,' he assures me. Orders placed before 10am on the website are delivered the following morning by courier and freshness is guaranteed: the team buys daily from local fishermen and quayside markets.
Buyers' tastes have become more adventurous. 'It's entirely normal now for us to be sending cuttlefish, clams, squid ink and octopus out,' attests Mr Wing. However, the ultimate luxury is still the company's lobsters, which come from just three specialist fishermen. You can have them delivered live ('We've had a few casualties, but our success rate is really good') or cooked, in a range of sizes.
A percentage of the price of each goes to the National Lobster Hatchery on the docks at Padstow, which looks after the area's lobster populations. 'Our buyers get to feel that they're helping to create a sustainable fishery at the same time as enjoying something delicious,' enthuses Mr Wing. 'We want to educate and share the love.'
'Our typical customer is someone who takes a lot of pride in the food they lay out out on the table and they're very conscious of the ethical and animal-welfare issues associated with its production,' notes Matt Chorlton of Market Porter. 'They want to be doing the new thing, but also the right thing.'
Some 18 months ago, he and his team went on a hunt for the best independent butchers, chocolatiers, charcuterie producers and cheesemakers in the country. 'We wanted to give them the ability to send things directly to customers without a complicated supply chain.'
Local shops (butchers, principally) function as Market Porter 'hubs': all the components parts of an order are sent to them and they make use of the afternoon trading lull to pack them up and send them out – which means buyers can support a local business at the same time as enjoying special produce from the other end of the country. 'A lot of people are purchasing for a dinner party or event and they love it when their friends ask where they got something from,' explains Mr Chorlton. 'And that's good for us, too.'
For Market Porter and companies like it, the trick is to balance increasing demand with the personal touch that attracted people to them in the first place. Someone managing to pull it off is Zak Frost, who hunts for black truffles in a top-secret corner of Wiltshire, assisted by Stanley the labrador. His business, Wiltshire Truffles, has a client list that reads like the index of the Michelin Guide. Increasingly, he's shipping to private buyers all over the country, too. 'We don't in any way advertise that side of things,' he discloses.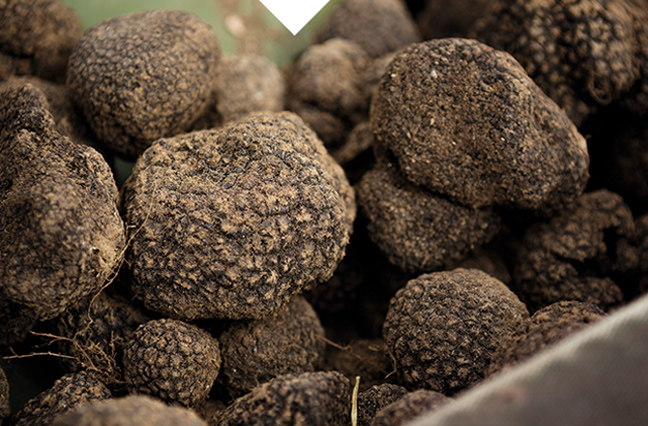 He doesn't have to. Convenience is a large part of its word-of-mouth appeal – rather than your trekking to a food hall ahead of a special occasion, the truffles arrive on your doorstep the day after you order them in a special refrigerated polybox.
Additionally, as Mr Frost notes, buying online is also a way of keeping control over the quality of the product you're going to be eating. 'Our truffles get sent out to customers straight after they're hunted,' he confirms. 'If you were to get them from a shop, they may well have been sitting around for a week or so. And if you're buying truffles, a few extra pounds for the transit isn't the end of the world.'
You've got mail: where to buy the best
Meat
Donald Russell: 01467 629666; www.donaldrussell.com
Fish and seafood
The Cornish Fishmonger: 01726 862489; thecornishfishmonger.co.uk
Cheese, chocolate and British charcuterie
Market Porter: 020— 3713 8413; www.marketporter.com
Vegetables
Riverford: 01803 227227; www.riverford.co.uk
Truffles
Wiltshire Truffles: 07766 967747; www.wiltshiretruffles.com
Cake
Bettys: 0800 456 1919; www.bettys.co.uk
And if you're in London, Farmdrop delivers everything from wild mushrooms and fresh chestnuts to Goodwood Farm milk from farmer to your doorstep in just 19 hours – free. Producers get three-quarters of the retail price of their goods (supermarkets typically give them less than half). www.farmdrop.com
---
A cut above the rest: John Goodall discovers how to prepare good meat.
Crisp, peppery radishes add instant zing to any dish.
Haggis is a very special sort of specialist food, and these butchers make the best in the land
---