In today's round-up, we bring you mind-bending research about plant communication, look at 'green' sheep and find out more about Scotland's new spaceport.
How plants warn each other when they're getting eaten
Plants can warn each other when under attack, according to new research which sounds like something out of science fiction, but actually comes from Cornell University.
Researchers carried out a study which found that plants release chemicals to the air around them when threatened by herbivores or pathogens. When other plants detect these chemicals, they can change their metabolism to help ward off trouble. That can be in a change of taste – for example, to be more bitter – or to attract insects which could help them fight back.
'It's not a random change – in fact, those chemical and metabolic changes are also helping them cope with those attackers,' explains Professor Andre Keppler.
'It's very much like our immune system: Though plants don't have antibodies like we have, they can fight back with pretty nasty chemistry.'
---
Scottish college launches project to breed eco-friendly sheep
A new project led by Scotland's Rural College looks at new ways to breed and feed sheep to reduce their environmental impact.
Scientists will first develop tools to measure the animals' methane emissions and feed efficiency—the amount of feed a sheep requires to produce a unit of milk or meat. They will then examine how a range of factors, including breeding and genetic lines, affect the relationship between emissions and feed efficiency, in a bid to give the industry the means to breed, feed and manage sheep in a more eco-friendly way.
On average, lamb has a greater ecological footprint per kilogram than all other meat so the Scottish initiative could be a game-changer.
---
Grab an art bargain and help a heart charity
Heart Research UK is holding an online auction featuring more than 450 original, signed works by celebrities and leading artists, which have been donated to the charity — and are listed anonymously.
Hosted on eBay, the sale includes pieces by Alan Titchmarsh, Keith Lemon, Vic Reeves and Jon Mitchell, among others, with starting prices as low as £2.50. Buyers will only discover who made the work they purchased once the auction has finished.
All artwork will also be on display at Northern Ballet, Leeds, from noon to 4pm on Wednesday October 9. The auction closes on October 13.
Full story (The Scarborough News)
---
Spaceport controversy heats up in Scotland
Highlands and Islands Enterprise has revealed outline proposals for a spaceport development on the Mhoine peninsula (below), in Sutherland. If approved, the project would be the UK's first satellite launch facility.
However, conservationists caution the scheme — which would be built over more than 800 acres of moorland and peatland — could devastate the local ecosystem and affect several environmentally-sensitive areas, including two sites of special scientific interest and a RAMSAR wetland of international importance.
---
On this day…Elizabethan playwright John Marston was born
Poet, satirist and playwright John Marston was born on October 7, 1576, at Warsington, in Oxfordshire. After studying at Oxford, he was admitted to the Middle Temple, like his father before him, but also nurtured an interest for poetry and writing, which his family disapproved of. In 1598, he published his first works, including The Scourge of Villanie, which is thought to have influenced Shakespeare.
He quickly became a prominent literary figure and was one of the three writers involved in the War of Poets, a series of plays in which playwrights ridiculed one another — but a change of career beckoned. By the end of 1609, ten years after the Archbishop of Canterbury had banned and burned the Scourge, Marston had become a priest.
---
'Hidden' house hits the market in Norfolk
A house that's so secluded no one knew was there has come up for sale in Norwich. The two-bedroom property is just off the city's popular St Benedict's Street, but it's tucked away behind another building and accessed by a gated passageway, so not even estate agents were aware of its existence.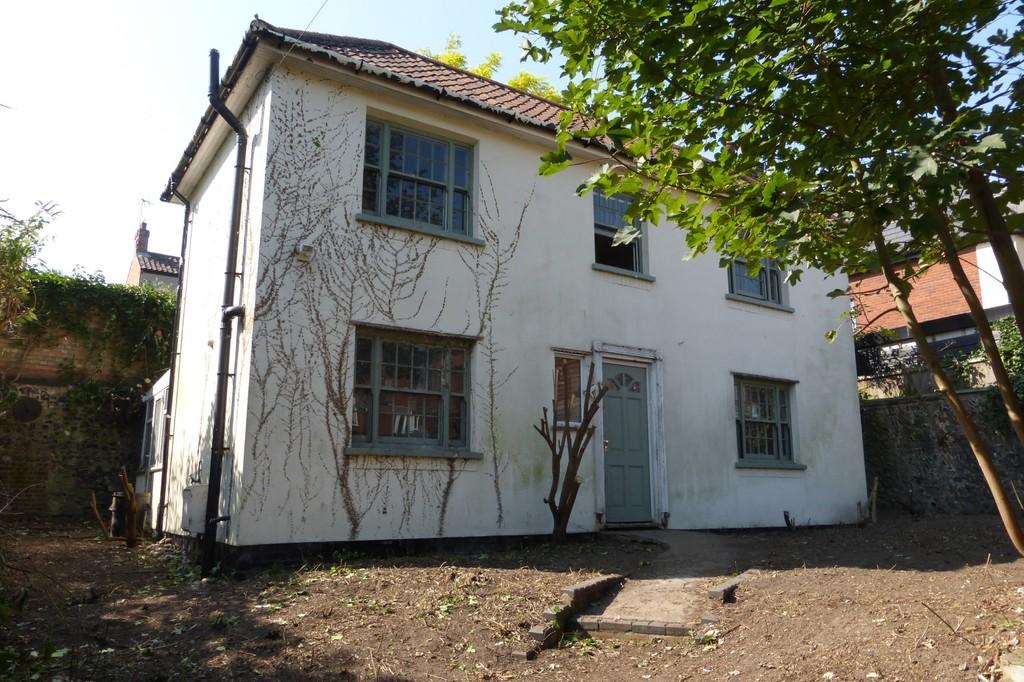 Unfortunately, the building, which is thought to date from the 1930s and has a private garden, suffered extensive water damage and is now in disrepair. However, the price reflects this and, once renovated, the property could make a brilliant home right in the heart of the city.
---
And finally… Norwich pub gets seal of approval
Staff and punters at the Ribs of Beef, a Norwich pub were surprised — and more than a little shocked — to see a seal turn up just outside the establishment, which stands by a bridge on the River Wensum.
Although the Norfolk coast has many seals, no one had ever seen them travel this far inland and the pub manager, John Power, decided to call the RSPCA and the authority for the Broads National Park in case the animal was hurt. A Norfolk Wildlife Rescue volunteer also went to check on the seal, which looked absolutely fine.
According to the Broads Authority, the seal may have arrived in Norwich because of the current tides in the Broads waterways. Both the authority and Norfolk Wildlife Rescue reminded the public that seals are wild animals and people should keep their distance.
Full story (Eastern Daily Press)
---