A grand country estate that's become a fine place to stay, The Four Seasons Hotel Hampshire offers swish opulence and country charm within easy reach of London. Victoria Marston paid a visit.
For lovers of winter, there's no finer time to escape for the weekend than when the frost-covered grass glistens and crunches beneath your feet like icing on a cake.
The perfect setting for a lungful of bracing country air is the Four Seasons Hotel Hampshire, situated at Dogmersfield Park, an 18th-century manor surrounded by 500 acres of parkland that is on the site of a medieval palace once used by the Bishop of Bath and Wells.
The rooms are all deeply luxurious yet homely in true country-house hotel style, but, if you're pushing the boat out – and no doubt many of those who arrive via private jet at nearby Farnborough will do just that – there's simply no better option than the newly redesigned Royal Suite, created by renowned designer Martin Brudnizki using soft blues, yellows and greens, inspired by the surrounding countryside.
At almost 2,500sq ft, it's huge: a two-bedroom suite with a marble ensuite and its own private terrace, taking in the best views of this calming spot. There's even a floorplan on the hotel website; you might want to print it out in case you lose your bearings.
Recommended videos for you
With a relaxed and comfortable living area and a spacious dining room, fitted in leather and wood, for up to eight guests, it's the ideal space for relaxing with friends, loved ones and your dog. That's right – dogs are welcome and will be provided with a snuggly bed, a smart food and water tray plus their very own bottle of mineral water. What bliss.
A night in the Royal Suite starts from £4,750. Standard rooms start at £260  – see www.fourseasons.com/hampshire
Food and drink
It's not just the Royal Suite that has undergone a facelift – as part of a year-long enhancement programme, the Library, Drawing Room and Wild Carrot Restaurant and Bar have all been jazzed up, too. The latter, named for the wildflower found in its surrounding acres, uses seasonal local ingredients at breakfast, brunch and dinner.
At this time of year, few things will beat the melt-in-the-mouth Wellington of Salisbury venison haunch, served with beetroot and a sumptuous jus – the staff are on hand to help with the perfect accompaniment from a healthy wine list.
For those with a sweet tooth but little room left, the café gourmand is a delicate and delicious note to finish on.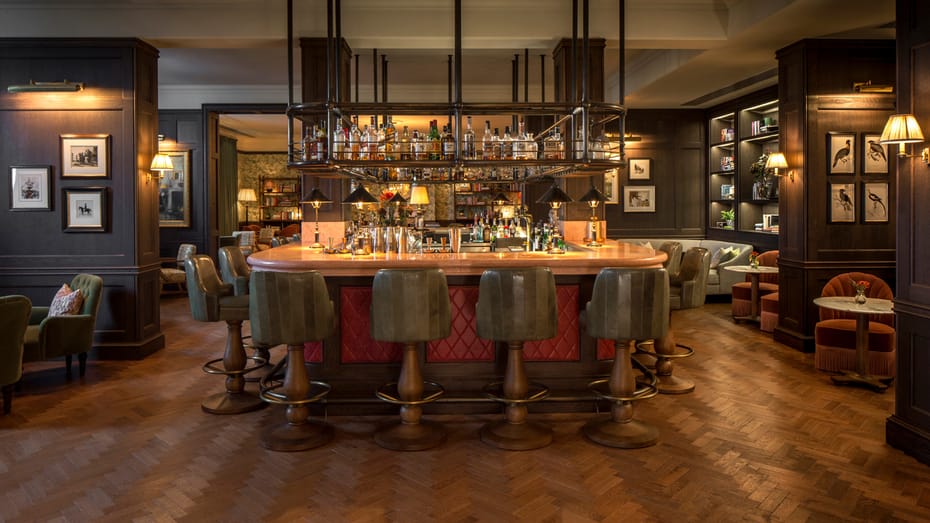 Things to do
Enjoy the hotel grounds and spa
There are a host of activities on offer at the Four Seasons: this isn't just a hotel, but a 500-acre estate. There are all the pools and tennis courts you'd expect, but there's also clay-pigeon shooting, horse riding at the equestrian centre, a highwire experience through the treetops and a canal boat that you can borrow (honestly – the Basingstoke Canal runs through the estate).
If all that sounds a little too much, why not just take your four-legged for a leisurely dog walk through the former deer park, followed by a visit to the spa? On a cold day, there are few finer things than the signature Deeply Warming massage treatment (from £125) which employs wild mint, mandarin and warm stones to ease away any imaginable tension.
Highclere Castle
Just a short drive away from the hotel is Highclere Castle, better known to millions around the world as Downton Abbey, one of the finest country houses in the UK. If you're staying at the Four Seasons, you needn't mingle with the crowds and coach groups: the hotel runs a special 'out of hours' visit.
You'll be driven to the castle in a Rolls-Royce for a behind-the-scenes tour of this opulent estate and castle, where you'll encounter centuries-old works of art, architecture and interior design, along with antiques and a permanent Egyptian exhibit celebrating the 5th Earl of Carnarvon's discovery of King Tutankhamun's tomb with his archaeology partner Howard Carter in 1922.
---
Bonnie Friend, editor of the Good Hotel Guide, shares her tips for places that will not only welcome your dogs
Non Morris explores the historic 100-acre grounds of Endsleigh, Olga Polizzi's alluring West Country hotel, designed by Humphry Repton in
---