Mother's Day is coming soon on Sunday 26th March – our guide will help you find the perfect way to show your appreciation.
For the mother who deserves an afternoon tea treat…
London's iconic Savoy hotel has a very special afternoon tea for a Mother's Day treat. It's a traditional afternoon tea for two in the magnificent surroundings of the Thames Foyer, plus a bouquet of Savoy flowers and a bottle of Penhaligon's new eau de parfum, Savoy Steam. £200 for two people, and bookable until August if you can't make it on the day itself.
Down in Sussex, the vineyards at Bolney Wine Estate are offering a Mother's Day guided tour plus afternoon tea for £69 for two people, including a tutored tasting and a sparkling afternoon tea to finish. You can indulge in savoury items such as pork pie and decadent deserts such as lemon meringue and a glass of their award winning Cuvée Rosé.
For a different atmosphere, Park Chinois in Mayfair offers live music from the 1930s played by the 'Orchestre de Chinois' while you enjoy afternoon tea at £39 per person.
For the mother who loves reading on the beach, or in the bath…
Amazon don't make a waterproof Kindle, but their chief competitors Kobo make a waterproof version of their e-reader. The Aura H20 (£139.99) can be submerged for half an hour in 1m of water and come out unscathed.
Or, if your mother already has an e-reader or iPad and doesn't need another gadget cluttering up the place, this lovely wooden bath stand from etsy.com (£30.99) might be a better bet.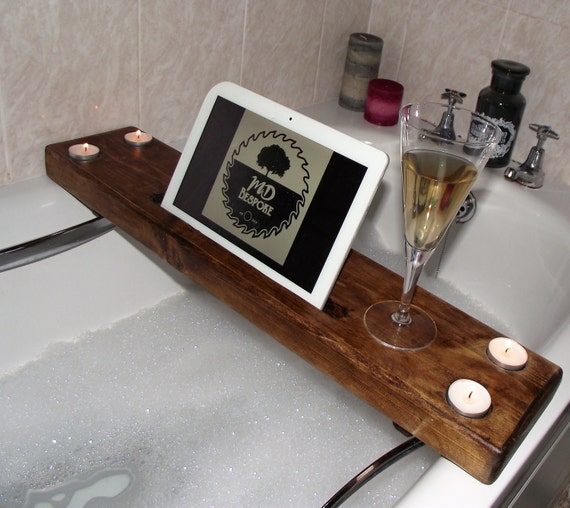 For the mother with a sweet tooth…
Cover all the taste bases with this taster set of Divine's fair trade chocs, at £4.80.
For something more familiar, the likes of Guylian's classic seashell chocolates and Elizabeth Shaw's chocolate mints are standards that you'll already know if your mother loves or hates. And the latest guilty pleasure from Cadbury's, the Peanut Caramel Crisp, comes highly recommended for those who like peanut and chocolate combination.
For the mother who really doesn't have a sweet tooth…
Do we even need to write a caption? Well, yes, if only to say this really is a customised jar of Marmite. £4.99 from Marmite's own website.
Or, for something that's neither sugary nor ruinously divisive, what better than some of Fortnum & Mason's beautiful new 'infusions' range?
Also for tea lovers, the Newby Teas 'From the heart – with love' collection at £22.40 is a beautifully-packaged collection:
For the mother who really, really loves mint…
Summerdown make a mint-fragranced bath and body range – and they're even offering a free gift for Mother's Day of a box of peppermint creams with every order of £15 or more.

For the mother who deserves whisking away for a long weekend…
Get away with your nearest and dearest – homeaway.co.uk has all sorts of places, including this lovely cottage in the Lake District just a few paces away from the glorious Stanley Ghyll waterfall.
For the mother who never quite grew up…
She'll thank you for a microwaveable triceratops cuddly toy-cum-hot water bottle. £16 from the Natural History Museum's gift shop.

For the mother who loves gardening in style…
We can imagine the pitch right now: 'Banish dull green watering cans forever!' We're not sure exactly how big a problem this solves, but for some reason we're rather glad it exists in any case. Why shouldn't watering cans be a bit more fun? £7.99 from www.totally-funky.co.uk.
For the mother who dropped her tea set the other day…
To be honest we're a bit over Emma Bridgewater's name-painted-on-the-side-of-stuff look. But this new line, the Tiny Scattered Rose pattern, is simpler and nicer. Cup and saucer £29.95, teapot £39.95.
For the mother who loves the all-time classics…
Which son or daughter ever went wrong with flowers? Bloom & Wild's 'Hannah' bouquet (at £34) is not a bad starting point at all.
And finally, a special bonus for the mother whose child forgot Mother's Day…
Who doesn't love the mix of humour and retro appeal of these books? Five Forget Mother's Day (£7.99) will get any mum smiling, even if she's sore at the big day being forgotten.