Looking for a present for a four-legged friend? Or someone somewhat obsessed with theirs? Take a look at our suggestions.
---
---
Your dog will be so warm and cosy he won't want to take it off' claim the makers. Obviously his lack of opposable thumbs would make doing so a near-impossibility anyway, but you know what they mean.
Equafleece dog jumpers, from £15 – click here to buy.
---
Made from labrador-patterned oilcloth, this large bag for your dirty wellies keeps your cupboards and car boots mud-free.
Sophie Allport Oilcloth Boot Bag, £38 – click here to buy.
---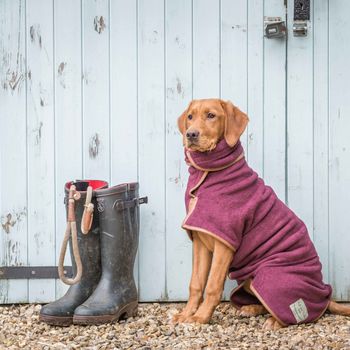 Perfect for after wet, muddy walks and bath times. These dog coat wicks away dirt and moisture to leave you with a clean, dry dog in under 45 minutes.
Ruff and Tumble Dog Drying Coat, £39 – click here to buy.
---
The peacock linen is paired with a premium, dark emerald Italian leather with a textured finish, which softens and darkens naturally with use forming a beautiful patina. Together they make a seriously striking and stylish dog collar.
Peacock linen and leather dog collar by Mutts & Hounds, available from Chelsea Dogs, £49.50 – click here to buy.
---
More time walking, less time spent towelling and washing off your four-legged friend.
The Dog Trouser Company's dog trousers, from £75.99 – click here to buy.
---
Orvis are the kings of purveying the sort of canine beds that non-dog-owners will find hard to believe. Dog owners, meanwhile, will merely coo at how comfy their pooches look.
Orvis memory foam couch dog bed, from £229 – click here to buy.
---
If you hate having to leave your dog at home, this ingenious gizmo lets you keep tabs on them when you're out of the house – and even talk to them and dispense treats. It sends notifications to your smartphone when it detects barking, letting you talk to calm them down via the app.
Furbo dog camera with two-way audio plus treat dispenser, £239 – click here to buy.
---
---
---