Every year on November 5, we remember the Gunpowder Plot, but where in England did the plotters come from? You'll be surprised to hear that their stronghold is now an AirBnB rental while the surrounding areas are quite sought after, as Eleanor Doughty explains.
Exactly 414 years ago, a group of Catholics set their eyes upon a lofty target: the Houses of Parliament.
The Gunpowder Plotters – among them Robert Catesby, Thomas Percy, Guy Fawkes, Thomas and Robert Winter and Sir Everard Digby – had come to London to blow up James I, but they all hailed from elsewhere in the country. Here's a look at some of those places.
Ashby St Ledgers, Northamptonshire
In Northamptonshire, one of England's best-kept property secrets, sits the village of Ashby St Ledgers. Ashby Manor House (pictured above and top), probably begun in the 1390s, was the family home of Robert Catesby, the leader of the plot, in 1605 (and was featured in Country Life not long ago); today, it's available to rent through Airbnb – treason tourism, if you like.
'Despite its colourful past, Ashby St Ledgers is a relatively quiet village, with a church and traditional pub,' says Ian Cattle of Carter Jonas Northampton, he adds, it's well connected 'from either Long Buckby or Rugby, which offers commuters rail links into Euston in under an hour'.
The local area is as charming as it comes. On the border of Northamptonshire and Warwickshire, Ashby St Ledgers is five miles from Daventry and not far from the lovely village of Long Buckby. Rugby is seven miles away, with its famous school, and Northampton 20 miles in the other direction.
The county is awash with grand houses and good hunting, with the Pytchley, the Grafton and the Bicester with Whaddon Chase, plus the Warwickshire on the other side of the border, and lovely walks can be had at Draycote Water reservoir, not far from the pretty village of Dunchurch with its thatched cottages. House prices are a little over the national average: £302,784 in Long Buckby and a smidge over £500,000 might get you a four-bedroom detached house.
Alnwick, Northumberland
One of the plotters, Thomas Percy, was great-grandson of the 4th Earl of Northumberland and a former constable of Alnwick Castle. Today it's home to one of the world's largest wooden treehouses and the Duchess of Northumberland's famous Poison Garden.
Alnwick itself, says Samuel Gibson, head of Strutt & Parker's Morpeth office 'is full of independent shops and cafes, where young and old mix, giving it an inclusive quality you seldom find'.
In addition to being perfectly located for access to both Newcastle upon Tyne (35 miles by car or 45 minutes by train) and Edinburgh (87 miles or an hour and a half by train), the old market town is just off the mighty A1.
The area's property market is thriving, says Mr Gibson. 'Buyers are still drawn here even when times are tough, because everyone knows that you can get much more house for your money in the North-East than in the South. The spectacular beaches, the national park, Kielder Forest and the Cheviot Hills combine with a lifestyle that has roots in centuries of tradition – what's not to love?'
Worcestershire
The Winter brothers came from the moated manor of Huddington Court, 10 miles from the cathedral city of Worcester.
Worcestershire still has plenty to offer, with character properties for sale, including the almost impossibly grand Wood House, on the market with Savills at £5m.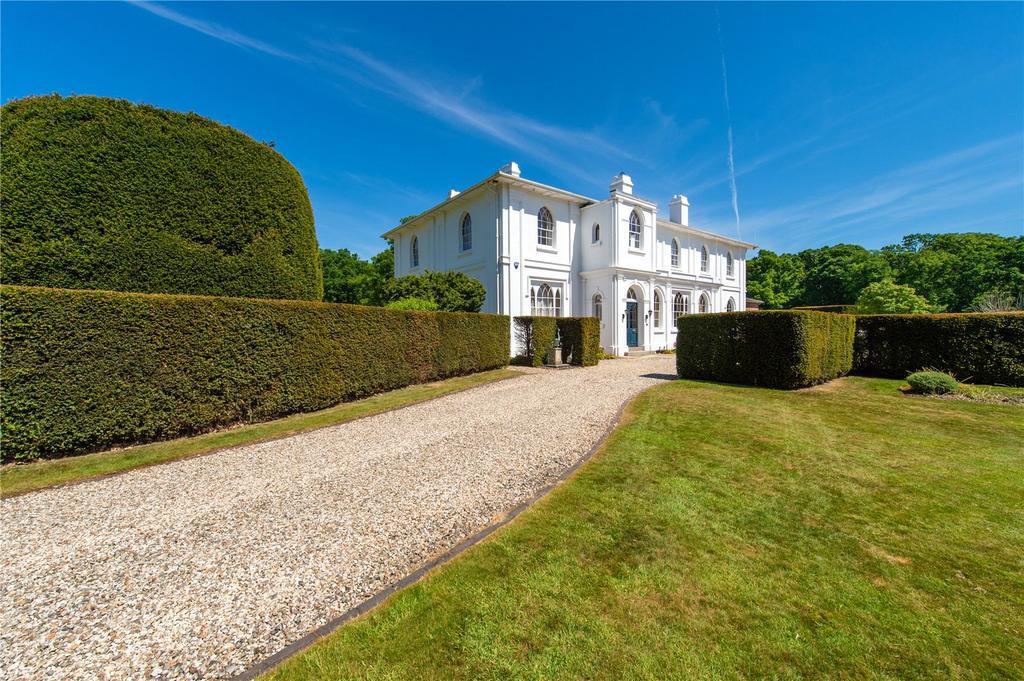 The schools are also good. As well as Malvern College (co-ed), there's Malvern St James (all girls), both in an AONB, the King's School Worcester and, to the north-west, Abberley Hall prep. Of interest nearby is Madresfield Court, the original Brideshead, and C. F. A. Voysey's Perrycroft, an Arts-and-Crafts house in the Malvern Hills.
Buckinghamshire
Next is Newport Pagnell in Buckinghamshire, home to Gayhurst House, sometime seat of the Digby family. Here, only 60 miles from London, house prices are higher than in Northumberland and there are charming nooks and crannies. One of those little spots is Great Missenden, the former home of Roald Dahl.
Little Missenden with its Saxon-cum-Norman church and Olney with a vibrant weekly market are both fine places too. Newport Pagnell itself, only five miles from Milton Keynes Central railway station, is just 35 minutes from London Euston. We'll see you at the bonfire.
---
Between Christmas and New Year, we're taking a look back at some of our most popular stories of the year
Where are the best villages, towns and small cities which are a pleasure to live in, but still offer a
---