Don't just pick up the latest plastic toys with lights and noises – take a look at these gifts which kids will love just as much as you do.
---
---
The Wind in the Willows; Alice in Wonderland; Through the Looking Glass; Winnie-the-Pooh; and The House at Pooh Corner, all read by the great Alan Bennett. Perfect for long car journeys to see relatives over the holidays – available as a CD or download.
Childhood Classics read by Alan Bennett, £19.99 – click here to buy.
---
Yes, it's the same old board game. Yes, umpteen million different versions are already available. But for dino-mad kids, this set from the Natural History Museum shop is fabulous – they also have dinosaur Guess Who and Operation.
Dinosaur monopoly, £30 – click here to buy.
---
This beautiful gift box contains all 23 original Peter Rabbit books by Beatrix Potter. Each tale is presented in its iconic white jacket and features a publisher's note describing how the story came to be.
The Beatrix Potter collection, £32 – click here to buy.
---
We're not sure if this is for the kids or the parents… but if you're planning redecorating a nursery, it's irresistible.
Jungle Friends wallpaper mural, £36 per sq m – click here to buy.
---
Made by the iconic Steiff company – made from white cuddly soft plush and is fully jointed and has a big long black mouth and is designed with black shiny eyes and matching three buttons on his tummy.
The Snowman, £59.99 – click here to buy.
---
What is Norman for? We haven't a clue. A fancy coat hook perhaps? But he's lovely, and hand-made in linen.
Norman the moose, £65 – click here to buy.
---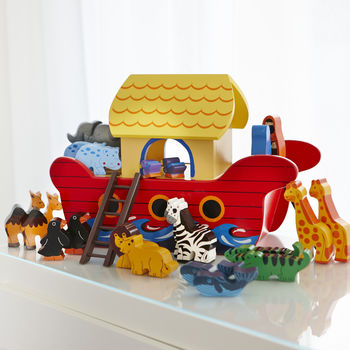 This lovely Noah's ark has 10 pairs of animals (giraffes, zebras, crocodiles, elephants, lions, whales, birds, penguins, hippos and camels) including ladders. The roof can be removed and the decking lifts to create storage for the animals.
Handmade wooden Noah's Ark set, £65 – click here to buy.
---
A wonderful little swing, ideal for small children or the narrow of hip. All sorts of sizes depending on whether it's just for kids – or whether the grown-ups are allowed to play as well.
Oak and Rope Company garden swing, from £175 – click here to buy.
---
After something special for a person who really appreciates their food? Our suggestions are certain to have something that's just