From mothers and sisters to wives and girlfriends, these gifts are sure to bring a smile to the face of the special lady in your life.
This unusual cup has liquid gold details – it would have to, for the price of it. But if the special lady in your life will only drink from the best, this very well may be it.
Priced at £190, Asprey — click here to buy.
---
These khaki suede loafers have feather details to highlight their pointed toe. We'd be a little worried about wearing them outside, but they're certainly pretty.
Priced at £189, Pretty Ballerinas — click here to buy.
---
This cheerful cotton pyjama in blue and peach conjures images of summer while keeping you warm for winter – a winning combination.
Priced at £145, Yolke — click here to buy.
---
The scents of Siberian and Balsam pine meet cedar and aromatic notes of basil and sage in this beautifully decorated candle – kind of like a Christmas dinner scent, but with less meat smells.
Priced at £24, John Lewis — click here to buy.
---
For the person who has everything, the best you can do is improve something that they use every day. Austrian brand Silhouette special edition collection is stylish, screwless and beautifully futuristic, as well as being so lightweight that you wont even know you have them on your face.
Priced at £300, Silhouette – click here to buy
---
Sleek leopards chase gazelles against the backdrop of exotic flowers in this wooden tray with hand-painted gold edge – a rather exciting place to serve your tea, if we do say so ourselves.
Priced at £50, Club Matters — click here to buy.
---
A homage to Paul Gauguin, this bordered bangle has an eye-catching fire-enamel surface inspired by the Tahiti landscapes the French artist loved to paint – a little expensive for Christmas maybe, but definitely memorable.
Priced at £922, Freyville — click here to buy.
---
Featuring a leopard, this sculptural lamp was created by OKA as an evolution of its hugely popular Lakadema candle holders. It wouldn't look out of place in Elvis's  Jungle Room —  but that doesn't mean you shouldn't have it in your home. Okay, so it might. But if you think you can get away with it, then who are we to argue?
Priced at £75 each for the lamp and the shade — click here to buy.
---
This make-up bag is not only beautifully finished in leather but also printed with eco-inks. Oxymoronic you may say, but definitely pretty.
Priced at £23.96, Hurn & Hurn — click here to buy.
---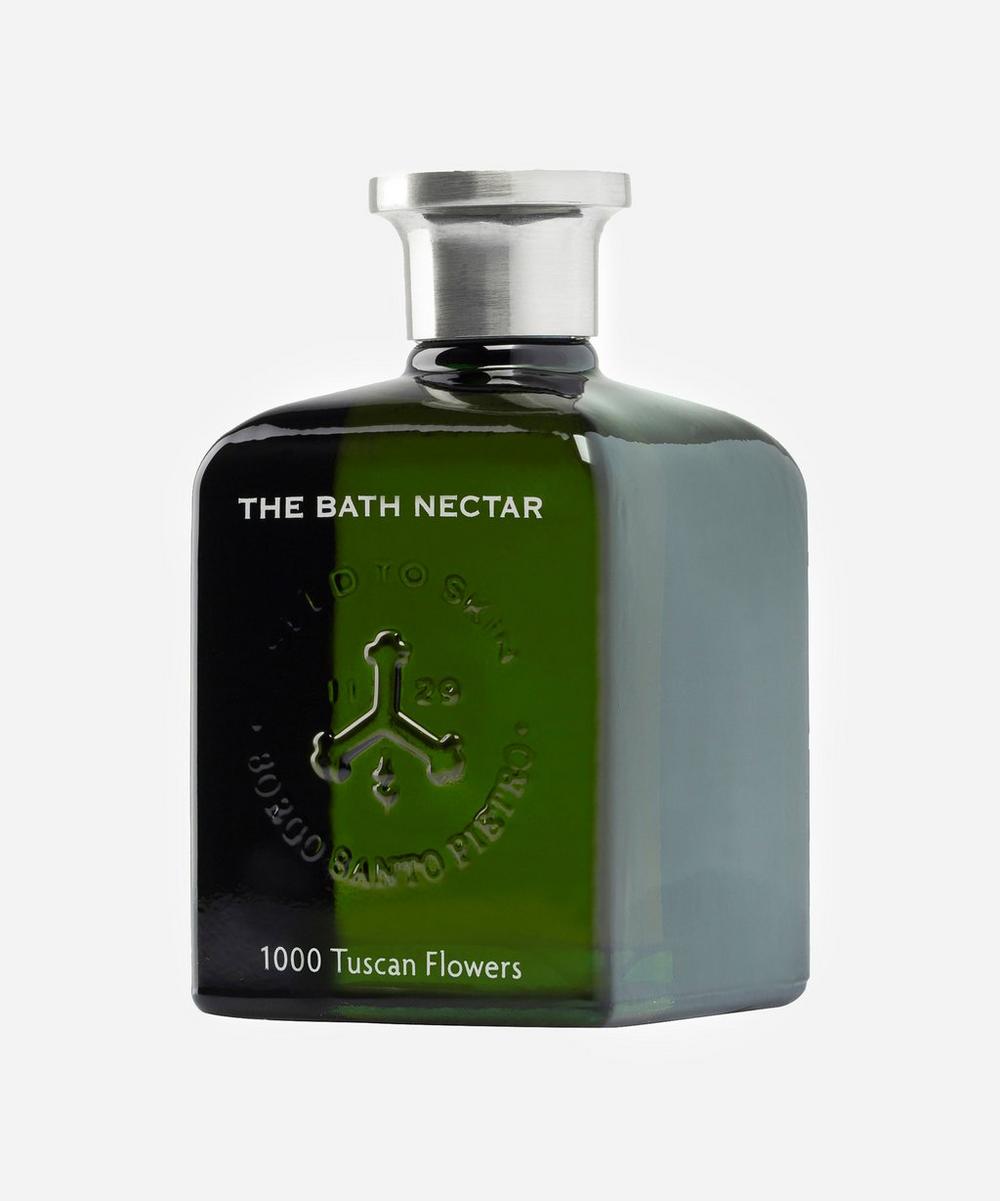 This intensely scented, relaxing bath oil is made with jasmine, damask rose and neroli grown organically on a Tuscan estate, as the name would suggest, proving once more than you can throw any kind of scented liquid into a bath and call it luxury.
Priced at £74.80, Liberty London — click here to buy.
---
These statement earrings combine stylish 18ct Yellow Gold and Diamond hoops with Fire Opal cushion drops. Surprise! You can replace the drops with other colours. If you can afford to, that is. Maybe next year.
Priced at £3,500, Kiki McDonough — click here to buy.
---
Handmade and eco-friendly, these Christmas crackers feature plastic-free gifts, and quite frankly, we're here for them.
Priced at £35, Nancy & Betty Studio — click here to buy.
---
With their vintage-style bird design, these cotton gloves are perfect for potting up, weeding and cutting fresh flowers – a nice gift for mother or grandmother.
Priced at £14.95, Hurn & Hurn — click here to buy.
---
Plated with 23.5 karat gold, this bracelet has an elegant, timeless design.
Priced at £150, Tilly Sveaas — click here to buy.
---