From fathers to brothers to lovers, we run through some smart ideas for Christmas presents for the men in your life.
Imagine a coffee machine. Now, scratch that image from your mind and imagine a coffee machine invented by Jules Verne.
£1, 649.95, Smeg — shop.smeguk.com
---
Outdoor clothing brand Muso have a whole range of Land Rover bits and bobs, but the rugged, practical parka apes the qualities which made the car so popular for so long.
Recommended videos for you
£400, down to £280 at time of writing, from Musto — www.musto.com 
---
What do you mean, the man in your life 'just uses the bit on the end of the corkscrew'? Time to fix that immediately.
£39, Tom Addison Fine Furniture — www.tafinefurniture.co.uk
---
At first we thought the £60 price tag on this seemed rather expensive. Then we saw that the equivalent set from Decathlon costs £80, and we were impressed. But then we realised that £60 was solely for the case, and that the bat and ball are a further £125. But worth it for beach lovers who love that continental cool — and it could be worse: Mr Porter's version is nearly £300.
£185 (bats, ball and case), Not Another Bill — www.notanotherbill.com
---
text here
£295, Sirplus — www.sirplus.co.uk
---
The sort of thing we can't ever imagine using — not more than three times a year, at least — and yet what more beautiful object could you wish to have on your desk?
£155, El Casco — www.fortnumandmason.com
---
Brolly good indeed.
£95, London Undercover — www.londonundercover.co.uk
---
Yes, it really is time to replace those old nail scissors he got from Boots in 1989.
£95 (reduced to £76 at time of writing), Aspinal of London — www.aspinaloflondon.com
---
This stuff is gorgeous, but don't miss that 'from' in the price below; the coolbag in the middle is £345, the wine cooler £95. But those copper cups are only £20 at least.
From £20, Harvey and Hamilton — www.harveyandhamilton.co.uk
---
Coravin are justly famous for their system — which lets you draw a single glass from a fine vintage bottle of wine, without having to open the whole thing. The Keith Haring design above is just one of a dozen or so different models.
£349.99 (currently on sale at around £250), Coravin — www.coravin.co.uk
---
Beautiful cloth and beautiful cut, mixed in with just enough of a hint of Rodney Dangerfield in Caddyshack.
£290, Favourbrook — www.favourbrook.com
---
The iPad case equivalent of that wallpaper made to look like shelves full of antique books — and yet we can't help but love these. (Just to be clear, the same can't be said of the wallpaper.)
From £49.99, Twelve South — www.amazon.co.uk
---
Supermodel David Gandy is the man behind this bodywarmer (or 'gilet', as they're sometimes known these days). Disclaimer: it absolutely, definitely, certainly won't make anyone look like David Gandy.
£120, David Gandy Wellwear — www.davidgandywellwear.com
---
If the coat further up this page is too much (or isn't enough) for your Land Rover-loving husband/son/whatever, you can also get these socks.
£15, Campbell's of Beauly — www.campbellsofbeauly.com
---
Handy. (Ho ho ho.)
£30, Rockett St George — www.rockettstgeorge.co.uk
---
Ho ho ho. (Ho ho ho.)
£320, Crockett & Jones — www.crockettandjones.com
---
The sort of luggage you'd imagine Indiana Jones lobbing into the hold of an airship, this gorgeously made bag perfectly straddles that tricky line of making an effort without making too much of an effort.
---
A fool-proof option for the gardener's in your life — and a great way to try and encourage more time spent tending to the flower beds. The padded palm provides extra cushioning and the tweed fabric remains soft, even when wet.
---
Q. What man doesn't want (or need) a pair of velvet slippers, especially velvet slippers with sharks on? A. None. Add them to your bag.
---
One to bring our on camping trips when you've finally wrestled with a tent for long enough that it starts to resemble a semi-acceptable sort of structure. Glasses are included but it's up to you to fill it with your choice of poison. You've earned it.
£325 from Campbell's of Beauly
---
This wireless leather charging tray will help make you feel like you have your life in order — or at least, it makes it look like you have your life in order, which is really just the same thing, right?
---
A fantastically simple yet effective bag design — and it also probably gets you out of helping bring logs in for the fire, too. A win win situation.
---
Don't ask us the science behind it, but tea just tastes better when it's out of your own 'special' mug. This particular mug will delight any gardener (potentially when brought in unison with a pair of gardening gloves…) and its 1/2 pint size is the perfect gluggable-amount.
---
A compact and discreet pill box that ensures you never have to nag or micro manage dishing out medication ever again. The new recipient can stay up to date and organised all on their own thanks to the embossed days of the week on the sapphire calfskin leather.
---
We can't think of anyone who wouldn't want to receive this gift hamper from Paxton & Whitfield — ourselves included. The best selling hamper includes everything you need to put on an excellent cheese board display, and these cheese utensils will help complete the arrangement.
---
Going to be honest here: we spent several minutes wondering what the Batman link here. Was this an early prototype of the Gotham City crusader's Batmobile? The dawning realisation that it was, of course, a Bantam Midget model cleared things up. If someone in your life isn't bothered about comic book anti-heroes, but loves pre-war motors, they'd absolutely adore this model.
---
For those who prefer their motor cars little more mobile than the Bantam above, PalmerSport offer track days at the Bedford Aerodrome. Track days are common enough, of course, but not like this one: PalmerSport's collection of stunning cars — including a Le Mans-style sportscar racer — and the track's characteristics make this as fast a track as an amateur will find in the world. If that's too much, they also have a pursuit course which you can tackle in a Caterham and an off-road section which you can drive in a classic Land Rover Defender.
---
Ahh, that's a good idea, you're thinking; he loves classic board games. Well, let your eyes fall further down the page, dear reader, for this isn't for those who merely 'love' classic board games. This a breathtaking retro recreation of Cluedo with the board printed onto cowhide, with a leather dice cup and tray, pewter murder objects, and customisable to order. Amazing.
---
What man about the house hasn't, at one point or another, wondered out loud how wrong his life has gone that he doesn't own a wine cooler-cum-punch bowl in the shape of stag's head? Okay, perhaps that's a little far-fetched, but even still — this Annabel James piece is a handsome object indeed, that channels the spirit of Harry Potter's Patronus.
---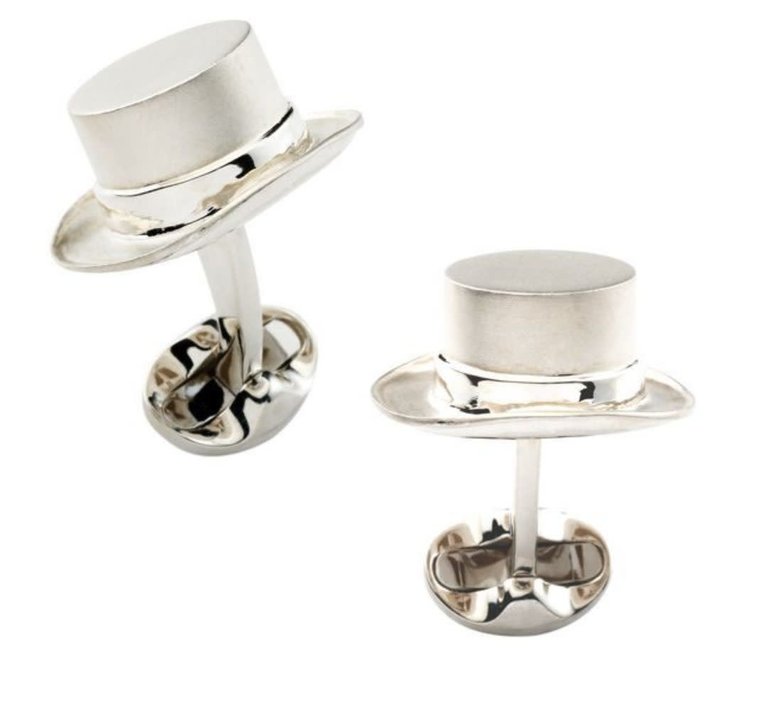 Made in England with a variety of different designs — but we particularly liked these, since you can use them as spare Monopoly pieces in case the dog eats one.
---
Perfect for the proud Scot in your life, this Glenmuir jumper is a major upgrade on the Primark Christmas jumper you were thinking about getting.
---
From £50 to £1,280, we've selected some lovely items to help you find the perfect present.