From fathers to brothers to lovers, we run through some smart ideas for Christmas presents for the men in your life.
A lovely warm scarf
Unfairly lampooned in Love Actually, the scarf is a Christmas staple and deserves the respect it has earned. This lightweight alternative is gorgeously made from 90% merino wool.
Priced at £80, Pantherella – click here to buy. 
---
Made in Italy from 'Kilim jacquarded cotton', this is the ideal bag for a weekend away. Less advisable for ninjas, spies and other workers in stealth-based jobs.
Priced at £1,295, Smythson — click here to buy.
---
This limited-edition sculpture by Lucy Kinsella is perfect for any terrier-lover. So long as they have a taste for extremely expensive and rather tiny shiny objects, that is: it stands just 8cm high.
Priced at £1,850, Hancocks — click here to buy.
---
Just what you needed: a miniature teapot to sit inside your normal teapot. Dinky, right? Engraved with the Wolseley monogram, this teapot-shaped infuser makes it easy to brew a great cup.
Priced at £35, The Wolseley Shop — click here to buy.
---
Let's face facts: this is a lot of money for an air freshener. A lot. But it is an extremely nice one which won't disgrace the beautiful dashboard of a Bentley, a Rolls-Royce or an Aston Martin — and as such, it really does have its place.
Priced at £145 from Harrods or charabanc.com — click here to buy
---
These 'mocassin' slippers appear to have a typo in their description — isn't it moccasin? — but what they lack in linguistic accuracy they make up for in style. Finished in burgundy suede, and lined in cashmere. Fancy.
Priced at £295, William & Son — click here to buy.
---
Durable and dishwasher safe, these cups come in two sizes: the larger one is for tea, coffee, water or a glass of wine, while the smaller one is perfect for an espresso or a cheeky whisky.
Priced at £18, Jimmie William — click here to buy.
---
Because who wants a dog basket that's been made by a machine, right? These lovely one-off dog baskets come in three sizes: small, medium and large.
Priced at from £100, Wovenology — click here to buy.
---
Utterly inessential, yet actually incredibly practical — this high-tech system allows people to pour themselves a glass of wine without having to remove the cork. You can have a small glass of something really special (read: stupidly expensive) without having to finish the whole thing in one evening.
Priced at £279, Coravin — click here to buy.
---
We know what you're thinking — that this cricket bat has been designed by someone whose only contact with the game has been listening to TMS. But wait! It's actually a rather lovely chopping board.
Priced at £44.85, Joanna Wood — click here to buy.
---
If this bewilderingly lumpy piece of plastic and glass immediately makes you feel uneasy, just scroll on down. If it makes you think 'woah, that's cool!' then you're in the right place: it's a handy accessory that clips your phone to a pair of Swarovski Optix binoculars, so you can take great long-range photographs.
Priced at from £132, Swarovski Optix — click here to buy.
---
Made of pure silk, this hilarious scarf features a fox with oversize binoculars focusing on colourful birds of paradise
Priced at £59, The Leaping Fox — click here to buy.
---
This sturdy tin tray can, er… easily carry a heavy teapot. And a lot of mugs. Probably biscuits too.
Priced at £33, Emma Bridgewater — click here to buy.
---
---
As the musical sound of coughs and sneezes fills the office, I'm reminded that most homes do not have wall-to-wall carpet (especially not in the bathroom. Hopefully not in the bathroom). On that note, it's wise to have something snuggly to slip your feet into after a hard day of being exposed to a plethora of other people's germs.
But why settle for simply slippers? Hugs&Co. know that you can't always buy the car of your dreams, but you can buy part of it and hide it under your feet. To that end they've produced the TS1 model, a British driving loafer with a sole made entirely from up cycled tyre material. One thing's for sure, you won't be slipping on a stray copy of Country Life in these bad boys (so much traction).
TS1 Model British Driving Loafer in slate grey by Hugs&Co. for £150, find at www.hugsandco.com.
---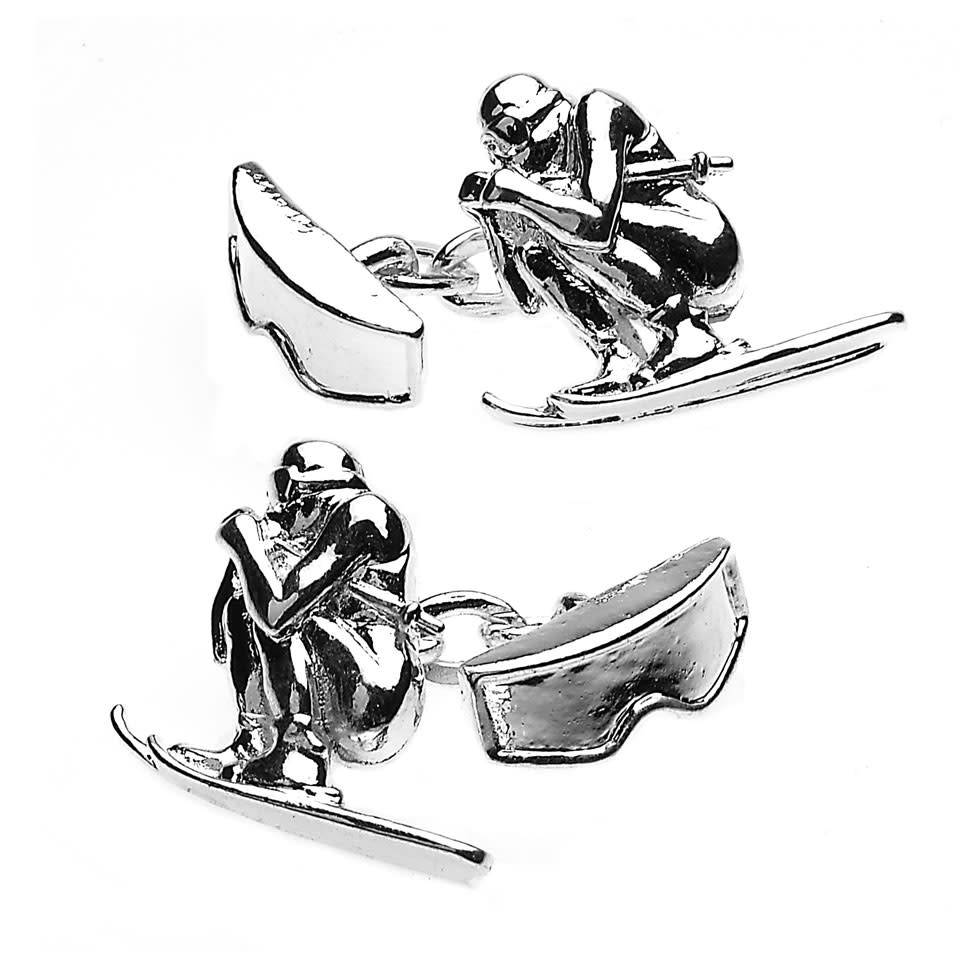 Made in England with a variety of different designs – from tennis to these lovely skiing ones.
Skiing cufflinks by Oliver Brown, £25 – click here to buy.
---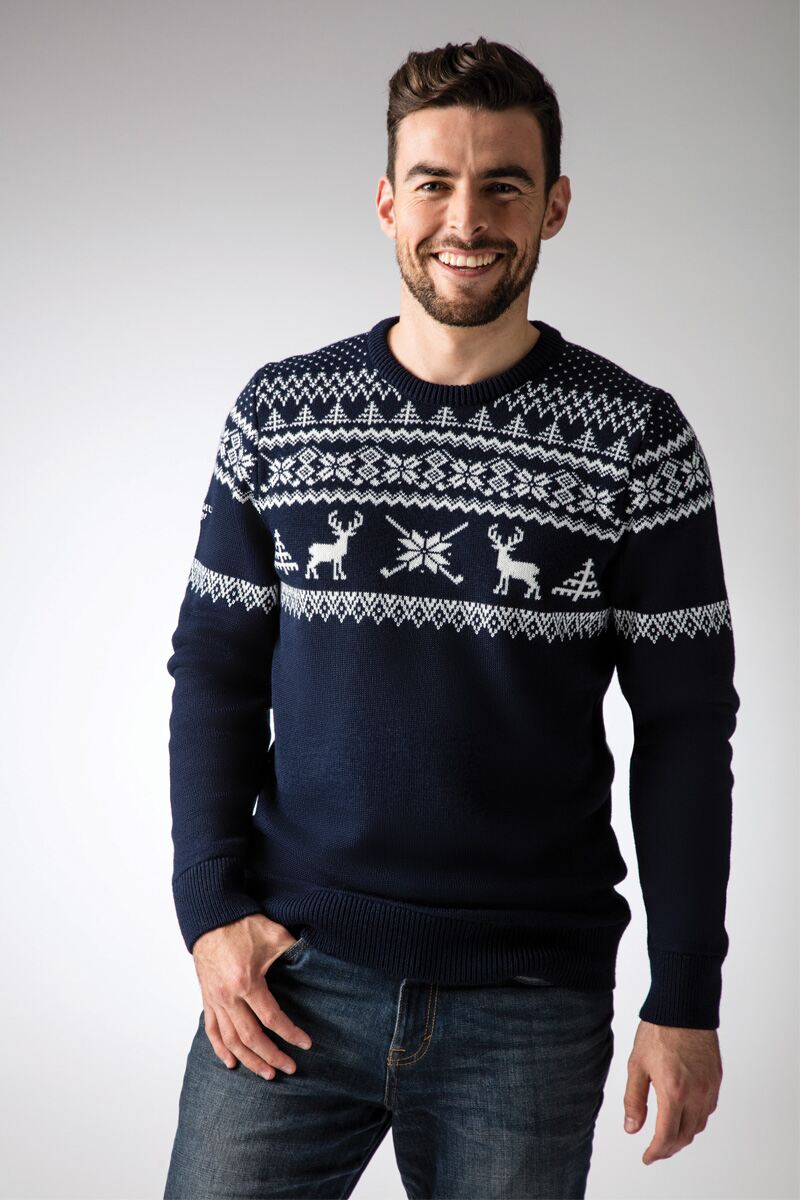 Made in the UK from Italian spun merino wool, this Glenmuir jumper is a wonderful gift for a golf lover – or anyone who wants to swap their snowman monstrocity with a classier version.
Mens Fairisle Patterned Christmas Sweater by Glenmuir, £50 – click here to buy.
---
A casual belt to make a change from his usual brown and black numbers.
Sinatra tan and pale-blue suede belt by Elliot Rhodes, £145 – click here to buy.
---
From £50 to £1,280, we've selected some lovely items to help you find the perfect present.