From fathers to brothers to lovers, we run through some smart ideas for Christmas presents for the men in your life.
A fool-proof option for the gardener's in your life — and a great way to try and encourage more time spent tending to the flower beds. The padded palm provides extra cushioning and the tweed fabric remains soft, even when wet.
---
Buying and receiving socks is inevitable, but you can make it that little bit more special by gifting them in a personalised leather stud box — so really it's two gifts in one…sort of.
---
A bold and luxurious gift idea that may initially cause some level of trepidation, but rest assured, as soon as he's felt the silky softness of this set from Bonsoir London, they'll be no taking them off.
---
Great news here — you don't have to be a polo player to wear this belt — and what's more, it's another one of those two-in-one situations as it comes in it's own little black trunk box. Just don't ask us what you can use said trunk box for afterwards.
---
What man doesn't want (or need) a pair of velvet slippers, especially velvet slippers with sharks on? A. None — add them to your bag.
---
One to bring our on camping trips when you've finally wrestled with a tent for long enough that it starts to resemble a semi-acceptable sort of structure. Glasses are included but it's up to you to fill it with your choice of poison. You've earned it.
£275 from Campbell's of Beauly
---
This wireless leather charging tray will help make you feel like you have your life in order — or at least, it makes it look like you have your life in order, which is really just the same thing, right?
---
A fantastically simple yet effective bag design — and it also probably gets you out of helping bring logs in for the fire, too. A win win situation.
---
Don't ask us the science behind it, but tea just tastes better when it's out of your own 'special' mug. This particular mug will delight any gardener (potentially when brought in unison with a pair of gardening gloves…) and its 1/2 pint size is the perfect gluggable-amount.
---
Made in store on Savile Row, this Fawn brown tweed glasses case fits perfectly into a breast pocket and is a smart, no-fuss gift option.
---
A compact and discreet pill box that ensures you never have to nag or micro manage dishing out medication ever again. The new recipient can stay up to date and organised all on their own thanks to the embossed days of the week on the sapphire calfskin leather.
---
We can't think of anyone who wouldn't want to receive this gift hamper from Paxton & Whitfield — ourselves included. The best selling hamper includes everything you need to put on an excellent cheese board display, and these cheese utensils will help complete the arrangement.
---
Going to be honest here: we spent several minutes wondering what the Batman link here. Was this an early prototype of the Gotham City crusader's Batmobile? The dawning realisation that it was, of course, a Bantam Midget model cleared things up. If someone in your life isn't bothered about comic book anti-heroes, but loves pre-war motors, they'd absolutely adore this model.
---
For those who prefer their motor cars little more mobile than the Bantam above, PalmerSport offer track days at the Bedford Aerodrome. Track days are common enough, of course, but not like this one: PalmerSport's collection of stunning cars — including a Le Mans-style sportscar racer — and the track's characteristics make this as fast a track as an amateur will find in the world. If that's too much, they also have a pursuit course which you can tackle in a Caterham and an off-road section which you can drive in a classic Land Rover Defender.
---
The sort of luggage you'd imagine Indiana Jones lobbing into the hold of an airship, this gorgeously made bag perfectly straddles that tricky line of making an effort without making too much of an effort.
---
Ahh, that's a good idea, you're thinking; he loves classic board games. Well, let your eyes fall further down the page, dear reader, for this isn't for those who merely 'love' classic board games. This a breathtaking retro recreation of Cluedo with the board printed onto cowhide, with a leather dice cup and tray, pewter murder objects, and customisable to order. Amazing.
---
If you're going to buy socks for Christmas, the rule is hard and fast: don't buy high street stuff that the recipient would have bought for themselves anyway. The London Sock Company's socks are a bit special – not least for the lovely colours.
From £30 from London Sock Company
---
What man about the house hasn't, at one point or another, wondered out loud how wrong his life has gone that he doesn't own a wine cooler-cum-punch bowl in the shape of stag's head? Okay, perhaps that's a little far-fetched, but even still — this Annabel James piece is a handsome object indeed, that channels the spirit of Harry Potter's Patronus.
---
Put together by the curators at Primephonic — aka the 'Spotify' of classical music — is this 10-week course, consisting of bi-daily emails, weekly podcasts about the development of classical music, and hand-picked playlists — as well as access to the service itself. They've called it 'Ludwig' in a 250th-birthday nod to Beethoven.
£5.99 a month for three months from Primephonic
---
A perfect gift for somebody who wishes to channel their inner Bertie Wooster — breakfast not included.
---
If there's someone in your life who loves the idea of making cocktails, but hates the faffing involved in bothering to mix things up properly, the answer is here. Ingenious.
---
Bonsoir of London make all manner of dressing gowns — you can go from a £59 towelling option up to an £800 cashmere one. This, somewhere in the middle, has a bit of dash and whimsy, for those who can carry off the feather pattern.
---
Is it sexist for us to have put this mug in the men's gift list? Not at all. Clearly there are women who love fishing, and women who love novelty mugs. But the number of women who love both seems likely to be vanishingly small, whereas at least 50% of the men we've ever met would find this cup hiliarious.
---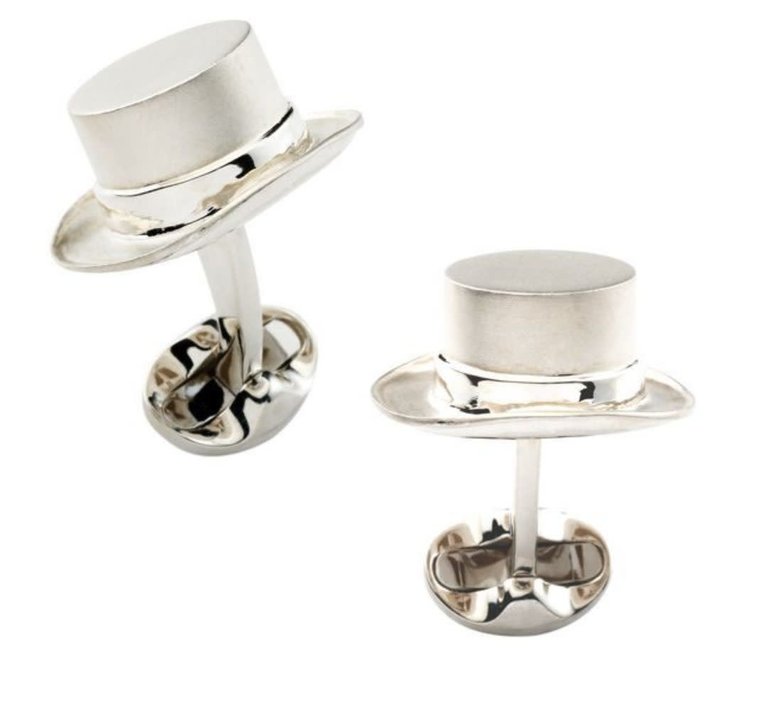 Made in England with a variety of different designs — but we particularly liked these, since you can use them as spare Monopoly pieces in case the dog eats one.
---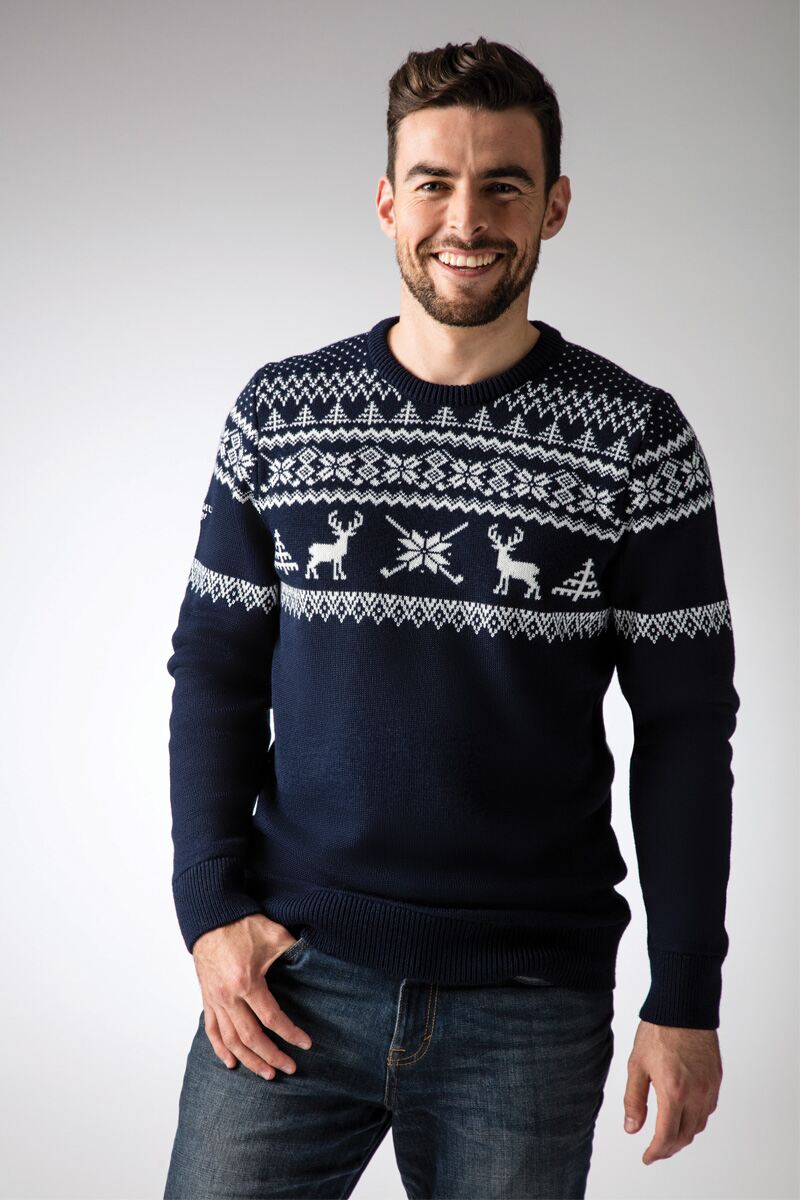 Made in the UK from Italian spun merino wool, this Glenmuir jumper is a wonderful gift for a golf lover – or anyone who wants to swap their snowman monstrosity with a classier version.
---
A casual belt to make a change from his usual shiny black numbers.
---
From £50 to £1,280, we've selected some lovely items to help you find the perfect present.