Don't worry if you haven't got badges for the Royal Enclosure at Ascot or Centre Court tickets for Wimbledon: Anna Tyzack recommends the best alternative ways to enjoy the British summer season.
Pole marquees, pounding hooves, strawberries and the sweet scent of freshly mown lawns: there's nothing quite like the British summer season. For the past 300 years, occasions such as the Chelsea Flower Show, Royal Ascot and Henley Royal Regatta have been an excuse to dress up and drink Pimm's when the country is at its greenest and most abundant. Edward VII encapsulated perfectly the spirit of the summer season when he described racing at Goodwood as 'a garden party with racing tacked on'.
Outside the grand enclosures of these glorified garden parties, however, there are plenty of other quintessentially British spectacles that are equally exhilarating, albeit less particular about hats, hems and badges. Take the Aegon Queen's Club Championships, in London, for example—a chance to watch world-class tennis a fortnight before Wimbledon—or Hampton Court Flower Show, which has more space yet just as many show gardens as Chelsea.
Although these alternative social events might be more relaxed than some traditional occasions, the same basic rules apply: bring a pair of binoculars and a picnic—and don't forget your umbrella.
June 8–August 4 Longborough Festival Opera, Moreton-in-Marsh, Gloucestershire
This intimate theatre nestled in the rolling Cotswolds hosts the world's most talented directors, conductors and artists. This summer's programme includes Wagner's Tristan und Isolde, Beethoven's Fidelio and Mozart's The Magic Flute. Picnic essential, black tie optional. Tickets from £22
(01451 830292; www.lfo.org.uk)
---
June 14–October 7, Luna Cinema, various locations
What could be dreamier than a film under the stars in the grounds of your local country house? Along with Dirty Dancing at Stonor Park in Wiltshire (July 22) and Breakfast at Tiffany's at Bleinheim Palace (August 13), there will be classic films screened at ruined abbeys and castles across the country. Bring your own picnic or buy Champagne and Sicilian street food at the venue. Tickets from £16.50
(0844 858 6767; www.thelunacinema.com)
---
June 17–18 Open Squares Weekend, London
London is at its prettiest on this weekend in June when more than 230 private, hidden and little-known gardens are open to the public. From Trumpeters' House in Richmond to Carlyle's House in Chelsea and square gardens in Notting Hill that are usually locked to the public, this is a chance to explore behind the capital's locked gates. Tickets from £10
(020–7839 3969; www.opensquares.org)
---
June 19–25 Aegon Queen's Club Championships, London W14
At this pre-Wimbledon warm-up, you can watch the world's greatest male players, including Juan Martín del Potro and Rafael Nadal, adjust their game to grass. The hottest clashes usually take place on day five, although you can expect nail-biting action throughout the tournament. When Wimbledon begins two weeks later, you'll know exactly who to put your money on. Tickets from £33
(020–8487 7000; http://aegon.seetickets.com)
---
June 30–July 2 GWCT Scottish Game Fair, Perthshire
Wilder and more raucous than its English equivalent, this annual gathering at Scone Palace in Perthshire celebrates the best of Scottish game, wildlife and country sports. Stock up on sporting supplies, sample the finest haggis and smokies and watch gundog displays, fishing and shooting competitions and terrier racing. Tickets from £20
(01738 554826; www.scottishfair.com)
---
July 1–2 Wales National Airshow, Swansea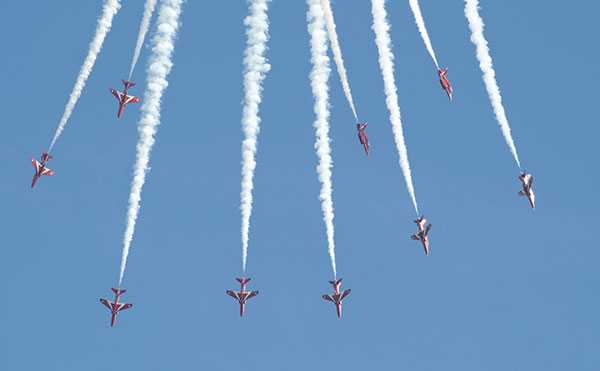 A chance to see an RAF Chinook, a Battle of Britain memorial flight, the Tigers parachute display team and, of course, the Red Arrows, at Wales's biggest airshow. Free entry
(www.walesnationalairshow.com; 01792 637300)
---
July 4–9 Hampton Court Flower Show, Surrey
For budding gardeners, Hampton Court—the world's largest flower show—provides a unique opportunity to glean advice and inspiration from growers and landscape designers and to purchase new plants. By far the most elegant way to arrive is by riverboat down the Thames. Tickets from £21.50
(0844 995 9664; rhshamptoncourtpalace.seetickets.com)
---
July 6–9 St James's Place Barbury International Horse Trials, Wiltshire
This three-star event at the Iron Age hill fort Barbury Castle on the Marlborough Downs is a smaller version of Badminton and spectators can view the majority of the cross-country fences from their picnic rug. Expect local trade stands and a packed beer tent. Tickets from £10
(01285 712955; www.barburyhorsetrials.co.uk)
---
July 7–8 Rock Oyster Festival, Cornwall
The north Cornwall crowd flocks to this summer party on the banks of the Camel estuary to enjoy Champagne, live music and succulent Porthilly oysters. This year, it's moving to new pastures on the Padstow side with more space for the farmer's market, food stalls, big top and funfair. Tickets from £24 (www.rockoysterfestival.co.uk)
---
July 7–17 Ways with Words Festival, Devon
In its 26th year, this 10-day feast of literary talks at Dartington Hall is more intimate than the Hay Festival, with a distinguished list of speakers—Bettany Hughes, Roy Hattersley and Matthew d'Ancona are confirmed. Accommodation can be arranged on-site within easy reach of the various stages. Tickets from £10
(01803 867373; www.wayswithwords.co.uk)
---
July 8–9 King Pocky's Derwent Water Regatta, Cumbria
First held in 1781 and revived by the National Trust in 2014, almost all the spectators at this regatta end up on (or in) the water. The fleet will include kayaks, catamarans, floating bathtubs and a Viking longboat. There's the inaugural Stand Up Paddleboard race on Saturday followed by a barbecue. Bring beach shoes and a towel. Entry free, activities can be booked online from the end of May
(01768 774649; www.nationaltrust.org.uk/borrowdale)
---
July 17–21, Birdsong at the Minack Theatre, Porthcurno, Cornwall
Sebastian Faulks's moving debut novel charts the tumultuous affair between a British army officer and a French woman, followed by the horror of his experiences in the trenches at the Battle of the Somme. Rachel Wagstaff's powerful dramatisation promises to entrance the audience in this most evocative of outdoor auditoriums. From 8pm to 10.30pm, tickets from £10
(01736 810181; www.minack.com)
---
July 30 Last Night of the (BSO) Proms, Powderham Castle, Devon
On the castle lawns, the Bournemouth Symphony Orchestra will perform pieces from its repertoire for the BBC Proms at the Royal Albert Hall the following week. The music will close with a spectacular firework finale over the Exe Estuary. Tickets from £27.50
(01202 255161; www.promsatthecastle.co.uk)
---
July 31–August 6 Galway Races, Republic of Ireland
This seven-day meet is the jewel of the Irish racing calendar—as W. B. Yeats wrote in Galway Races: 'There where the racecourse is/Delight makes all of the one mind.' Expect the world's finest racehorses, vast crowds and the most outlandish hats ever made. Not one for the faint-hearted. General admission from €20
(00 353 9175 3870; www.galwayraces.com)
---
August 3–6 Wilderness Festival, Oxfordshire
This most civilised of music festivals on the bucolic Cornbury estate is a favourite with local GPs, politicians and supermodels. As well as musical acts, there are banquets by Yotam Ottolenghi and a Neal's Yard spa with hot tubs and yoga sessions by the lake. Even the mud is sophisticated. Tickets from £178
(01608 811276; www.wildernessfestival.com)
---
August 7–October 30 Summer exhibition, Goodwood, East Sussex
Lord March's small summer exhibitions at Goodwood House have become a popular local fixture. This year's show focuses on the life of Charles Lennox, 2nd Duke of Richmond (1701–50), whose wide-ranging interests are evident in his collection of letters and manuscripts, paintings and furniture. Tickets from £9.50
(01243 755055; www.goodwood.com)
---
August 17 NatWest T20 Blast: Surrey vs Gloucestershire, London
If you can't make a Test match, an evening Twenty20 cricket match at the Kia Oval is the next best thing. Never has cricket been such a party, with thumping tunes, beer tents and a fast-paced, high intensity, hard-hitting game. Tickets from £22
(0844 375 1845; www.kiaoval.com/tickets/natwest-t20-blast)
---
August 24 The Melplash Agricultural Show, near Bridport, Dorset
Held at the West Bay Show grounds, this annual jamboree features proper, traditional livestock classes that see all manner of animals—from heavy horses and donkeys to cattle, sheep, goats and pigs—chasing rosettes. Tickets from £14
(www.melplashshow.co.uk)
---
August 27–28, Cadhay NGS garden opening, Devon
Take a late-summer stroll around the private gardens of this Elizabethan manor house and admire the herbaceous border walks, rhododendrons and medieval fish ponds planted with gunnera. There's also a walled garden and a cafe for afternoon tea and cake. Entry £4
(01404 813511; www.ngs.org.uk)
---
Until September 24, Giffords Circus, locations across the West Country
Nell Gifford's village-green circus has a European twist this summer, with dancing horses, chickens, acrobats, clowns and Brian the goose joining the 17th-century Spanish Court. The big top is travelling to towns across the South-West, complete with the new Circus Sauce restaurant. Tickets from £15
(0845 459 7469; www.giffordscircus.com)
---
Keep your diary up-to-date with our selection of unmissable events and things to do in the next few weeks.
James Martin offers up his tips to keep your picnic fresh and inspired this summer.
---