Battersea Dogs and Cats Home  has a long history of caring for dogs which have been abandoned or whose owners were unable to cope. Unfortunately many dogs at Battersea arrived because their previous owners only considered what they wanted their dog to look like – not its background and behaviour patterns. As a result Battersea has seen a rise in the number of pure breed dogs it receives as well as a rise in the number of dogs that need country homes. The most popular dogs purchased by misinformed town dwellers are, incredibly, Border Collies.
These dogs love mental and physical stimulation – they are bored silly in the city and need space and air and things to chase. Other breeds unhappy with life in the city are Jack Russell Terriers (miniature whirlwinds), Labrador Retrievers, Golden Retrievers (both have endless reserves of energy and stamina), Springer Spaniels (originally bred for retrieving they have energy and stamina reserves to rival the Labradors and Golden Retrievers) and Lurchers (a very strong chase instinct coupled with very bad recall means a three legged Lurcher in the city). Battersea has also lately seen a rise in Japanese and American Akitas. These awe inspiring dogs were originally used as hunters in Japan, therefore they have a very low tolerance of other dogs and so need to move to an area with a low dog population. These are examples of some of the breeds which are unhappy in the city, and over the next few months dogs like these will be looking for places to live where they are more at home, with loving owners who can give them the attention they need. This month, the dogs which require immediate housing are Doughnut and Annabelle.
Name: Doughnut
Age: 1 to 2 years
Breed: Boxer (Cross)
Sex: Male
Size: Large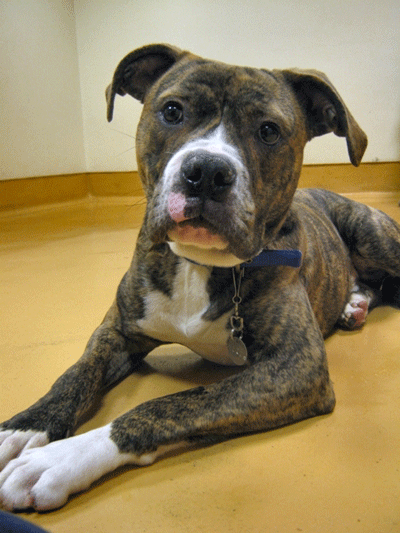 Delightful Doughnut is an adorable young man who is seeking that special someone who can give him a little bit of time and guidance to bring him on to his full potential.
Ideally, Doughnut's dream home would be one where he has a nice big garden to run around in. He also loves his walks so would like to meet someone who shares his love of the great outdoors. At times he can get a little overexcited, so will need an owner who is able to cope with his enthusiasm. However, Doughnut is a very intelligent lad who has shown an impressive grasp of training. In the right hands he will become a fantastic dog and lots of fun to be around.
Doughnut is very friendly and sociable and would be happy living in a household with teenagers who are able to participate in his training, and would probably benefit from being the only dog. This playful pooch will be a wonderful addition to a family.
If Doughnut sounds like the dog for you then please get in touch with Battersea Dogs & Cats Home's rehoming team quoting reference 2010/00127 on 020 7627 9234 or email rehoming@battersea.org.uk.
Name: Annabelle
Age: 1 to 2 years
Breed: Mongrel (Cross)
Sex: Female
Size: Medium
Adorable Annabelle is such a sweet girl who will bring lots of love and happiness to her new owners. She can be a little reserved at times but with encouragement she will happily show her silly side.
Busy situations can make Annabelle feel a little anxious, so her ideal home would be one that is quiet and calm so she can build up her confidence at her own pace.  
Annabelle is very fond of people though she can be a bit unsure around young children as she likes a more tranquil lifestyle, but she'd be fine living with teenagers of 16+ who can give her some TLC.  She likes the company of other dogs and would be very contented living with another canine companion or a cat too.
Annabelle would be ideally suited to living out of town and in the right environment will blossom in to a more confident and happy hound.
If you have room in your home and can offer Annabelle the attention she deserves then please get in touch with Battersea Dogs & Cats Home's rehoming team quoting reference 2009/03986 on 020 7627 9234 or email rehoming@battersea.org.uk