Old Timbers is a wonderfully romantic house and grounds just outside Guildford — and while it's been there a long time, it's not even a quarter as old as its medieval appearance makes it look.
In 1910, an ambitious young architect, Annesley Brownrigg, won a series of architectural competitions and set up shop in Guildford, Surrey, where, after the First World War, he built a flourishing practice with his friend, Leslie His cock. The firm was primarily known for residential developments within the Guildford area, a tradition maintained by his son, John, who went on to design Guildford's iconic Yvonne Arnaud Theatre and was also instrumental in the research and development of timber-frame prefabricated houses.
Another Surrey success story was that of the Gates family, who started out in business with the opening, in 1877, of a small grocery shop in Guildford. Having founded the West Surrey Central Dairy in 1888, they invested in drying equipment from America to make use of skimmed milk left over by the creaming process. The first advertisement for 'Cow & Gate' baby milk appeared in 1908 and brought orders flooding in from all over the country.
In 1929, Col Ernest Gates, by then the part-owner of the thriving Cow & Gate empire, commissioned Annesley Brownrigg & Hiscock (now Scott Brownrigg) to build him a grand country house within Surrey's 'Golden Triangle' — the area bounded by Guildford, Farnham and Haslemere, where eminent Arts-and-Crafts architects such as Edwin Lutyens, Charles Voysey and Harold Falkner built many fine houses in the Surrey vernacular style.
The result was Old Timbers at Woodhill.
Recommended videos for you
Old Timbers is two miles from Ripley and 3½ miles from Guildford, a substantial family house set within 17 acres of formal gardens, woodland, fields and paddocks at the end of a long tree-lined driveway, which is for sale, for the first time in 20 years, through the Guildford office of Strutt & Parker.
Selling agent Tom Shuttleworth quotes a guide price of £4.95 million for the beautifully maintained, mini country estate, comprising the 5,612sq ft main house, a separate two-bedroom cottage, stables, garaging, a treehouse and a tennis court. As the name suggests, Old Timbers, which boasts east and west wings, retains many character features from that era, including old ship's timbers as beams, decorative brickwork and original fireplaces.
Spacious accommodation includes five reception rooms, eight bedrooms, four bathrooms and three cloakrooms. The focal point of the house is the main entrance hall with its wall of leaded-light windows.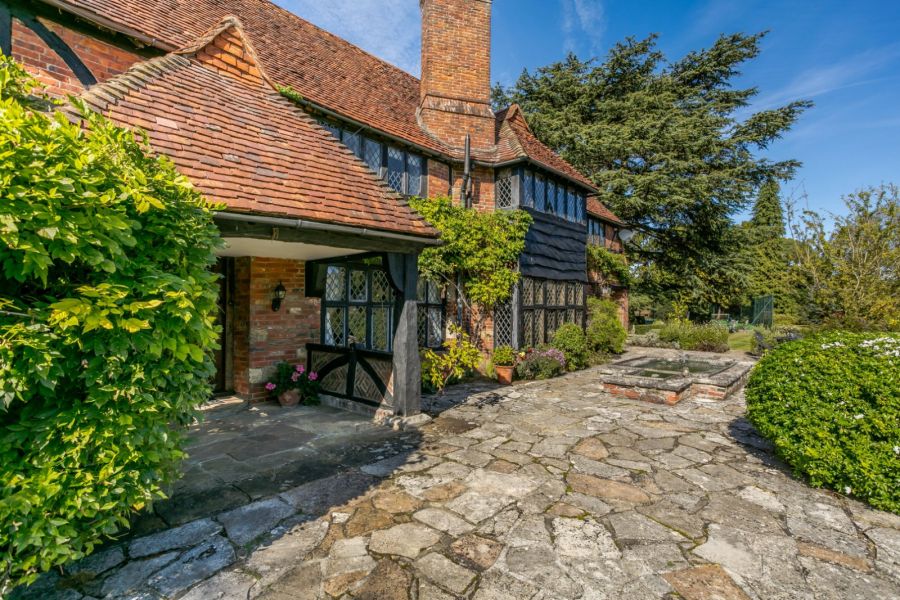 Heavy oak doors lead through to the drawing room, dining room, study and the remaining downstairs rooms — a layout well suited to entertaining on a grand scale.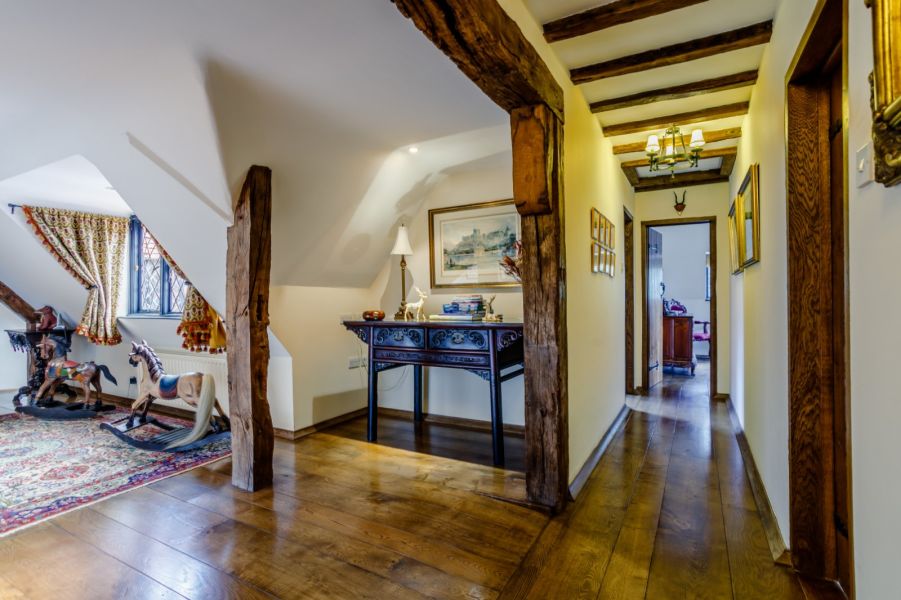 Connecting the two wings at the centre of the house is a large farmhouse kitchen/breakfast room with French doors leading to a large terrace, ideal for outdoor dining. A staircase in each wing leads to the upstairs bedrooms.
In addition, there are two enormous lofts, which could be converted to further accommodation. Located 270 yards away from the house, the 1,108sq ft Old Timbers Cottage has been extensively renovated by the current owners to provide a continuous and reliable source of income.
Old Timbers is for sale at £4.95m — see more pictures and details.
---
Exquisite homes in Devon, Yorkshire and Oxfordshire are among the wonders in our round-up of the best homes for sale