A glorious country house with a ceiling modelled on one of Ancient Rome's finest treasures has come to the market in Northumbria.
You can't help but admire an architect who has the chutzpah to attempt a recreation of the Pantheon, one of Rome's most famous (and best-preserved) classical buildings – especially when that homage is made as part of a house in Northumbria.
Yet that is precisely what the great architect John Dobson attempted when penning the plans for Longhirst Hall, a magnificent late-Georgian mansion near Morpeth which is now on the market after a major revamp.
This imposing Grade II-listed country house was built by Dobson in 1824 for William Lawson, and is hailed as the first of the architect's great country houses.
Dobson later went on to design most of Grey Street in Newcastle, a famously-beautiful sweep of buildings which inspired the late John Betjeman to wax lyrical: "As for the curve of Grey Street, I shall never forget seeing it to perfection, traffic-less on a misty Sunday morning. Not even Regent Street, even old Regent Street London, can compare with that descending subtle curve."
It's fascinating to see in this house, then, Dobson's ambition already flourishing. The original main entrance includes a magnificent pedimented portico supported on giant Corinthian columns, opening into a spectacular ashlar-faced central hall with Ionic columns and a central glazed dome.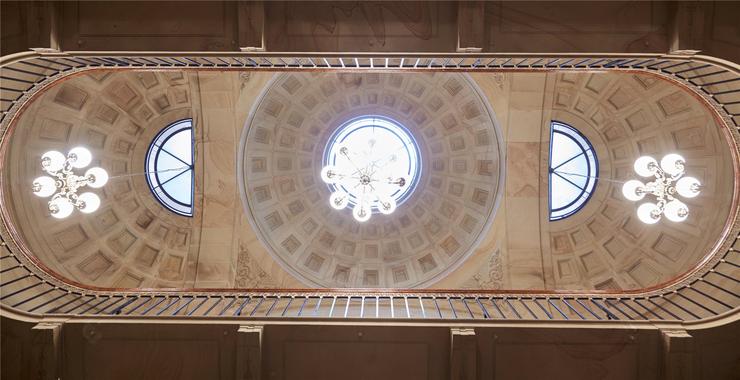 The sweeping Imperial staircase to one end has a wrought-iron balustrade with an anthemion frieze which wraps around the galleried first-floor landing. And above is the coffered dome, the aforementioned replica of the Pantheon.
Sadly, the house had fallen on touch times, but has been beautifully restored (by Dere Street Homes) and split into four separate residences. Purists may regret that such a grand building hasn't been kept as one house, but on balance we'd rather see Longhirst altered but beautifully-restored rather than neglected.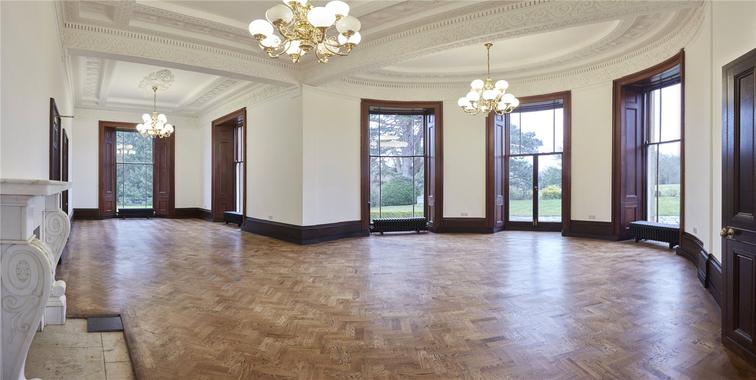 Of the four homes, the rather unromantically-named 'Unit 1' is the pick of the bunch, and is the place featured on this page with an asking price of £1.65 million via agents Strutt & Parker.  It includes that incredible entrance, hall, staircase and domed ceiling, while the reception rooms are also wonderfully proportioned and adorned with ornate plasterwork and full-height windows.
The drawing room is especially stately, with its semi-circular bow window and stunning views across the grounds landscaped after the style of  Capability Brown, with a ha-ha overlooking the paddock. Directly above the master bedroom shares the same views.
The kitchen and breakfast rooms are planned but so-far unfinished, allowing the new owners to specify exactly what they want included.
Much of the rest of the house is already complete or close to complete, however, and includes a fine checklist of things modern buyers love to see at the top end of the market: a library, study, wine cellar and cinema room as well as the seven bedrooms and almost as many bathrooms.
Longhirst Hall is for sale through Strutt & Parker – see more details and pictures of Unit 1 here, while further details of the other units can be obtained from the agents.
---
Credit: Justin Paget for the Country Life Picture Library
Between 1863 and 1865, Sir George Gilbert Scott created a new lodge for the Master of St John's College, Cambridge.
Credit: Doncaster Mansion House - Paul Highnam / Country Life
The great architect James Paine was born exactly 300 years ago – to celebrate his achievements Richard Hewlings takes a look
---