John Lennon and his then-wife Cynthia bought this beautiful house in St George's Hill as 'Beatlemania' was sweeping the world.
In July 1964, The Beatles were already the biggest thing in pop music, but their fame was about to go into overdrive. Beatlemania had been in full flow for at least a year in Britain, they'd cracked America after a famous appearance on the Ed Sullivan Show in February, and A Hard Day's Night had just been released.
With all that going on, John Lennon and his wife Cynthia decided to buy a house in Surrey – they settled on Kenwood, in the leafy enclave of St George's Hill, paying £20,000 for a house which was 51 years old at the time and in need of some work.
The Beatles already had a string of number ones to their name and Lennon's white Rolls Royce was in the driveway, but he didn't shy away from doing some of that work himself. There are pictures of him from the time putting up curtains and so on – with the help of George Harrison.
One of those images is included in the brochure produced by Knight Frank, who are handling the latest sale of the house – it is on the market for £8.95 million.
Lennon and his family (he and Cynthia had already had their first child, Julian) lived in the house for four years, during which time The Beatles produced arguably the best music of their careers – albums including Revolver and Sgt Pepper's Lonely Hearts Club Band. Many of the most famous songs were written in the converted loft of this very house.
Kenwood has actually been on the market for some time – on and off since 2012, in fact. A huge amount of work has gone into it, and it's a beautiful home with fascinating history in a much sought-after part of Surrey.
The list of features has everything you'd hope for: a kitchen-breakfast room, billiard room, library, cinema, and wine cellar, for example.
There is even a sauna and an outdoor pool, plus a separate detached coach house and stables within extensive grounds.
So why has it been for sale for so long? Well, owning a famous house isn't necessarily a guarantee of a sale. 'A famous owner could be associated with a house for years,' explains Alex Newall of Barnes Private Office, 'but it may not add a penny of value. It just gets it in front of more people.'
And ensuring that those people are serious buyers, rather than just fans, isn't always easy for the agents. Caroline Edwards of Carter Jonas in Suffolk had similar issues when selling Frankie Dettori's old house a few years ago – a Grade-II listed, five-bedroom house, with 15 acres, stabling and a helipad, on the edge of Newmarket.
'We had a lot of viewings and, for many of them, you had to work out whether they were viewing the house because of Frankie and who was genuinely interested,' she says. 'You have to work out who is the serious punter.'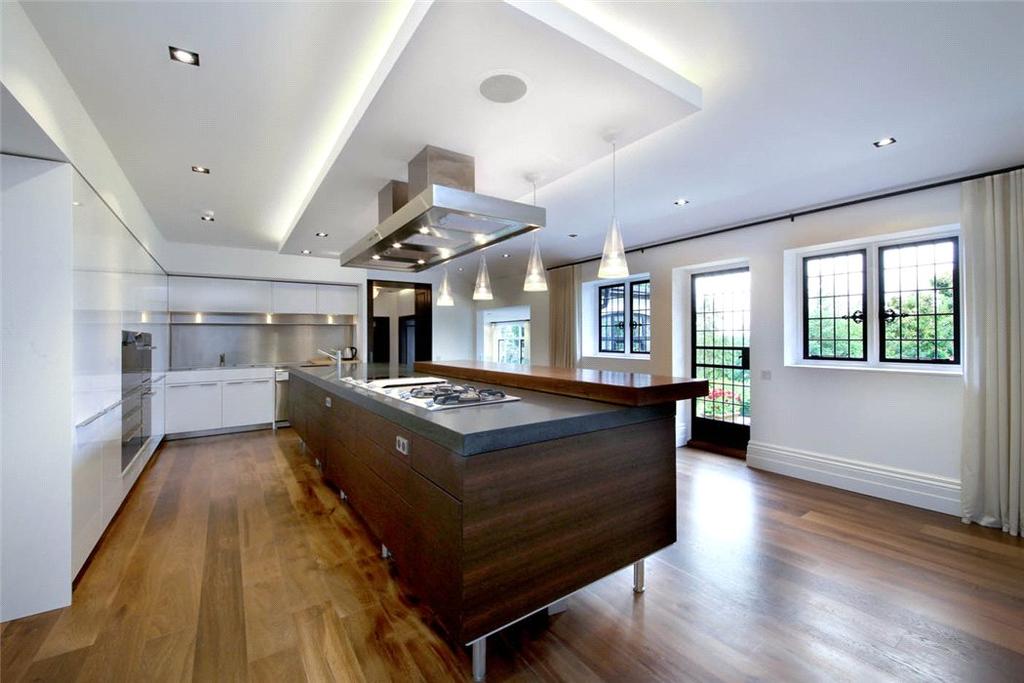 Of course, there is always a chance that a famous past can spark a huge offer, or even a bidding war. The recent arrival on the market of the 'Harry Potter house' in Lavenham, Suffolk, appeared to have benefitted from that when it quickly prompted an American fan to lodge a bid over the asking price. 'It turned out to be a bit of a fantasy approach,' explains Miss Edwards. The house is still on the market, priced at £995,000.
And that is the case with Kenwood – sill looking for the right buyer. A famous link is lovely, of course, but generally secondary to the features of the house itself, and its practicality for the family who are looking for a new home. As Mr Newall puts it, 'If you're a lifelong fan of The Beatles and you've got the chance to live in Lennon's house, then it's a very nice thing to tell your friends as dinner-party chat. Even so, it's more a token piece of interest than something that adds value.'
That message seems to have hit home, as the pictures on this page show. When it went up for sale in 2012, the pictures showed a house in need of TLC and decluttering. All that work has now been done; today it is presented as an immaculately-finished blank canvas.
The two views above of the billiard room in 2014 and 2017 respectively say it all; it now looks every inch a top-quality Weybridge family home, regardless of its history.  Perhaps the long and winding road to find a buyer for Kenwood is about to come to an end.
Kenwood, John Lennon's former house in St George's Hill, is for sale at £8.95 million via Knight Frank – see more details and pictures.
Additional reporting by Eleanor Doughty
---
Some of Surrey's finest new houses come to the market.
Credit: Savills
Catch up on the best country houses for sale this week that have come to the market via Country Life.
---