14th century Scottish castle for sale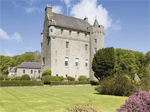 Killochan Castle has a documented history since 1324, when Robert the Bruce granted the lands of Killochan to the Cathcarts of Carleton on condition that they presented three sufficient spears on Christmas Day at the Head of Manor at Turnberry. The castle remained in the family for the next 630 years - one of the lengthiest terms of ownership for a Scottish property.


Originally built as a four storey tower house with impregnably thick walls, a date stone above the front door shows that in 1586 a wing was added, with two extra floors. As a stronghold for the Covenanters, the castle resisted many fierce attacks through the strength of its fortifications, and its network of secret passages, including an escape route for the Laird from the saloon under the lawn. The Adam Wing was built in the 18th century, and its elegant proportions remain today. Internally, the Adam brothers also added fine panelling to many of the castle's original rooms; open fireplaces and period cornice work are present throughout the house.

* Give Country Life for Christmas and save up to 40%

Accommodation comprises (not including all secret passages): hall, drawing room (originally the great hall with doors to two secret passages) dining room with fireplace and Adam overmantle, breakfast room, kitchen plus larder and utility room, library, study, family bathroom, morning room in the main tower, three bedrooms on the first floor, three bedrooms on the second floor and the old charter room on the third floor. The lower ground floor has the old kitchen and a corridor with access to the wine cellar, guard room, dungeon and armoury, plus a secret staircase to rooms above. The steward's flat is also on the lower ground floor.

Outside the Gate House is an elegant building with three bedrooms and good reception rooms. There are three sets of outbuildings including stabling, workshops and store rooms. A further cottage - Bridge Cottage -has four bedrooms.

The gardens include a wonderful 18th century walled garden, a grass walk, ad a three acre paddock. The farmland, currently leased to a neighbouring farmer, adds further privacy. The land comes to a total of 131 acres and includes woodland and around 2.8 miles of mostly double-bank fishing which has seen recent improvements in catches. There are five named pools and the beat provides testing and interesting fishing.

Killochan Castle is situated overlooking the farmlands of southern Ayrshire and out to the coast beyond. The surrounding area is beautifully wooded and secluded. Girvan, three miles away, has a wide range of shops and facilities and Ayr has further amenities. Prestwick Airport is less than half an hour.

The guide price is £2.25m. For further information please contact Knight Frank on 0131 222 9600 or visit www.knightfrank.co.uk.

* Country Houses for sale

* Country Houses for sale in Scotland

* Follow us on Twitter