Essex, £1.275 million
Blue Barns Farmhouse, Ardleigh
7 bedrooms, conservatory, 6 acres
John D. Wood (01245 344222)
When Paul Smith and his family moved to Blue Barns 10 years ago, only three of the rooms were in use and the rest of the house was derelict. 'We've had to spend a lot of money to turn it into a family home. Now the children have flown the nest, it doesn't make a lot of sense to have the two of us juddering around by ourselves.'
Herefordshire, £1.35 million
Upper Eggleton Court, Ledbury
6 bedrooms, 1-bedroom studio, tennis court,
3 acres
Knight Frank (01432 273087)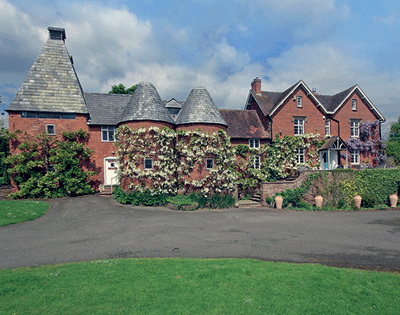 This Grade II-listed house dates back to the late 16th century. The former hop kilns and cider press are used as a base for Tom Dickins, who runs an art-publishing company, and his wife, artist Claire Minter-Kemp. 'We're in beautiful rural Herefordshire,' explains Mrs Dickins. 'The house is quirky and great for entertaining.'
Isle of Wight, £1.7 million
Newbarn Farm, Gatcombe,
5 bedrooms, 3 holiday flats,
99 acres
Creasey Biles and King
(01983 527744)
This small estate is set in the heart of an AONB. The current owners, Mr and Mrs Harvey, have farmed the free-draining arable fields. They converted three farm buildings to holiday lets and have built these up into a thriving business with many repeat visitors.
Oxfordshire, £1.6 million
Downside House, East Hendred
6 bedrooms, Aga, studio, 1.45 acres
Knight Frank (01488 682726)
The home of Alexandra von Bülow-Steinbeis and her family for the past 18 years, Downside has now become too big. 'My children loved it and still love it-they are unhappy that we're selling.' Mrs von Bülow-Steinbeis has run her education consultancy that brings German students to English boarding schools from the studio in the 'magical garden'.
Wiltshire, £1.2 million
Old Fovant House, Fovant
5 bedrooms, coach house, 1.14 acres
Strutt & Parker (01722 344010)
'Old Fovant House has been so much to us,' explains Geoffrey Ransby of this house, which benefits from a shop, doctor and pub on the doorstep. 'We've lived here for 27 years, raised our family, had wonderful parties, entertained many friends from around the world, and always returned to it after time away with great enthusiasm.'
Isle of Wight, £1.75 million
Oakhill, Cowes
7 bedrooms, studio, sea views
Christopher Scott (01983 200880)
The extensive terrace of this fine Regency house overlooks the racing line for Cowes Week, making it a superb vantage point from which to watch the UK's largest and most exciting sailing event. Sensitively updated by the current vendors in 2001, the house is currently run as a very successful B&B.
Devon, £2.45 million
Blinsham, Winkleigh
4 bedrooms, outbuildings, 108 acres
Jackson Stops & Staff (01271 377833)
On the hill above this house is the site of an Iron Age hill fort believed to have been the location for a battle between the Saxons and Danes in ad878. 'It's the type of place that the likes of Sir Fred Goodwin could buy and never be heard of again,' says Gordon Haddow. 'It's a little bit hidden away. We have otters in the river and lots of unusual birds.'
West Sussex, £1.25 million
Blackhouse Farm, Henfield
4 bedrooms, former dairy, 5 acres
Hamptons International
(01403 211766)
Over the past 25 years, Robert and Joanna Cameron have endeavoured to keep listed Blackhouse as beautiful as possible. The dairy has planning consent for conversion in place.
Bedfordshire, £1,195,000
The Garden House, Battlesden
4 bedrooms, stables, 2½ acres
Jackson-Stops & Staff (01525 290641)
This Grade II-listed house is thought to have been built for the head gardener at Battlesden House. 'We've always enjoyed privacy and seclusion at the house because we're at the end of a no-through lane, yet Woburn is only three miles away,' explains Richard Edwards. 'It's perfect for entertaining.'